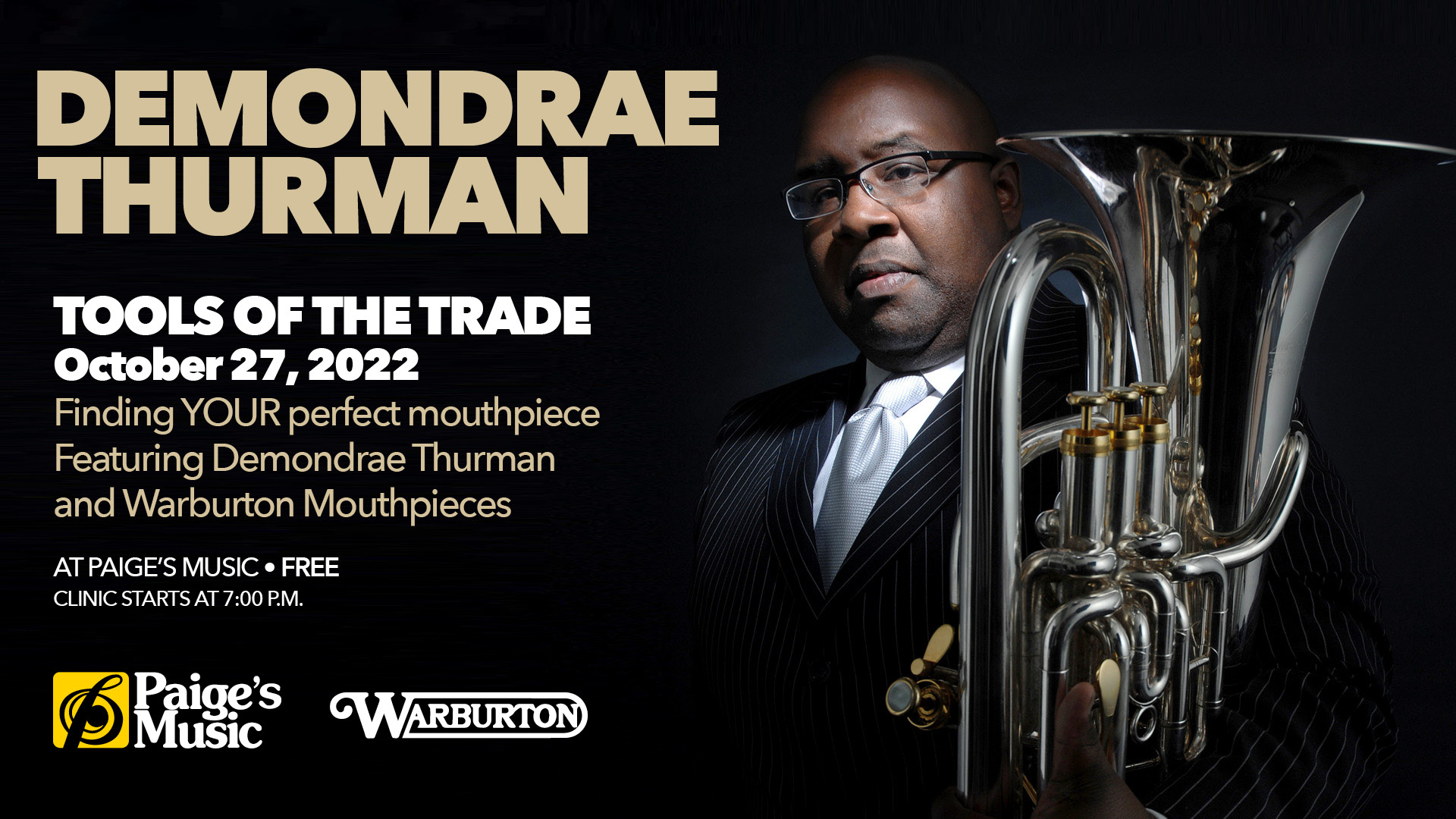 For many brass players, "What is the best mouthpiece?" can be a loaded question. The truth is that there is no objective "best" mouthpiece for any instrument. The best mouthpiece is the one that helps YOU play and sound the way you want to. Everyone's embouchure and playing style is different, and finding the mouthpiece that suits you as an individual is every bit as important as finding the right instrument for you.
But knowing that still leaves us with the biggest question: "HOW do I figure out what the best mouthpiece for me is when there are so many options??" Luckily, I am thrilled to welcome Dr. Demondrae Thurman to Paige's on October 27, 2022 to help answer that very question!
Demondrae Thurman is professor of music in euphonium and chair of the Brass Department at the Indiana University Jacobs School of Music. He has an outstanding international reputation as a euphonium soloist, having performed in Europe, Asia, and throughout North America. Many of America's premier colleges and universities have hosted him as a performer and teacher, and he continues to be in high demand. Over the past 10 years, he has been an invited guest artist/clinician at many of the world's prestigious euphonium festivals, including the International Tuba Euphonium Conference, U.S. Army Band Tuba and Euphonium Conference, and Leonard Falcone Competition. In short, when it comes to brass, he most definitely knows what he's talking about!
In this mouthpiece-focused clinic, Demondrae will discuss and demonstrate how to test mouthpieces in order to find the one that helps you play your very best. We're also introducing our new line of low brass mouthpieces from Warburton Music Products – these two-part, modular designs help a player dial in the perfect combination of rim, cup, and backbore. There will be opportunities to work with Demondrae personally, as he helps you find your "golden sound," as he puts it.
This clinic, entitled "Tools of the Trade – Finding Your Perfect Mouthpiece," is open to all brass players, from French horn to 6/4 BBb tuba!
If you would like to attend the clinic, test out mouthpieces, or just meet Demondrae, you can RSVP to the clinic by clicking here)