Please join us on the evenings of November 9th and November 13th to help us mark the Grand Opening of our new retail showrooms at Paige's Music.
George Pope – Flute Clinic and Performance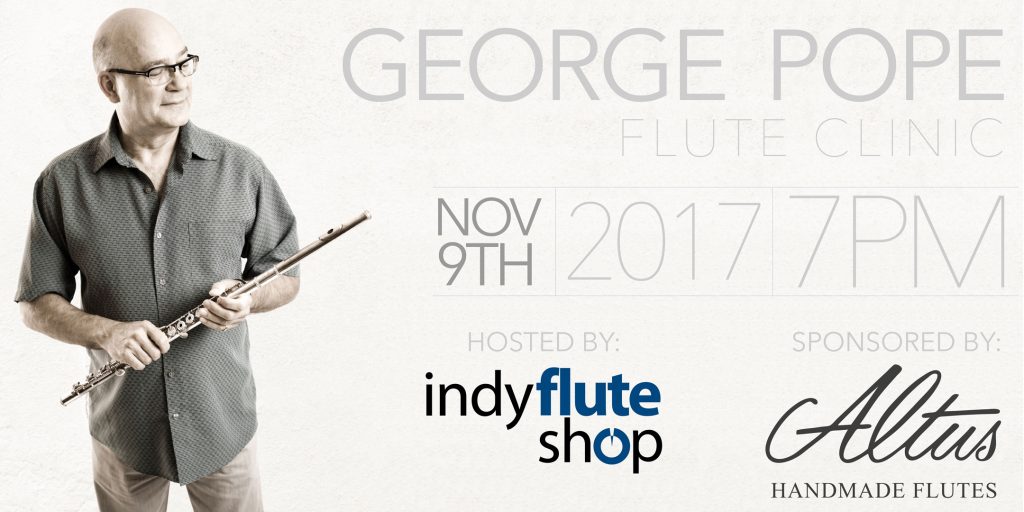 On November 9th, the Indy Flute Shop will host a FREE clinic and performance by George Pope, Altus artist and Emeritus Professor of Flute at the University of Akron! George Pope is hailed as a motivational and highly successful teacher. Still an active performer, Pope released …some measures for living, a solo CD, in 2016. Laurence Vittes of Gramophone UK has written: "The wonder of Pope's playing is how engagingly, articulately, flowingly and objectively he pours himself into the music."
He currently serves as the Instructor of Flute at the Baldwin Wallace Conservatory and has served as Principal Flute of the Akron Symphony Orchestra for 24 years and Principal Flute of the Blossom Festival Orchestra. He has performed with the Cleveland Orchestra, the Ohio Ballet Orchestra, the Cleveland Philharmonic, the Canton Symphony Orchestra, the Toledo Symphony Orchestra, Lyric Opera Cleveland, the Tulsa Philharmonic, the New Mexico Symphony, the Monteux Festival Orchestra and the Brevard Music Center Orchestra. In addition to this impressive list, he has also served on the presidential cycle and as program chair of the National Flute Association, and he will be the recipient of the NFA Distinguished Service Award at the 2018 convention in Orlando.
Sybarite5 – String Quintet Performance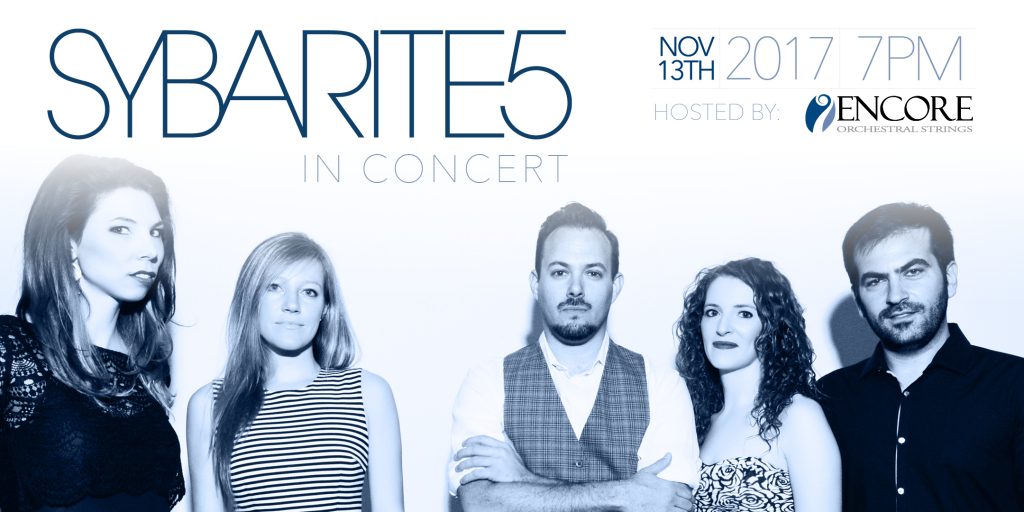 On November 13th Encore Orchestral Strings will host the amazing Sybarite5 String Quintent in concert.  Tickets are FREE!
"Their rock star status…is well deserved. Their classically honed technique mixed with grit and all out passionate attack transfixes the audience…" That is how the Sarasota Herald Tribune described SYBARITE5, the first string quintet ever to win the Concert Artists Guild International Competition. Comprised of Sami Merdinian and Sarah Whitney, violins; Angela Pickett, viola; Laura Metcalf, cello; and Louis Levitt, bass, SYBARITE5 has taken audiences by storm all across the US, forever changing the perception of chamber music performance. From the moment their bows hit the strings, this quintet of talented, diverse musicians takes the audience on an exciting ride that engages the senses and redefines the rules.
Very Limited Seating – Please Reserve Your Tickets
Both events are being presented inside the new retail showroom at Paige's Music.  Seating will be very limited and we highly recommend that you reserve your tickets in advance at the links below or by clicking on the appropriate image above.
Ticket Pages:
George Pope Flute Clinic and Performance