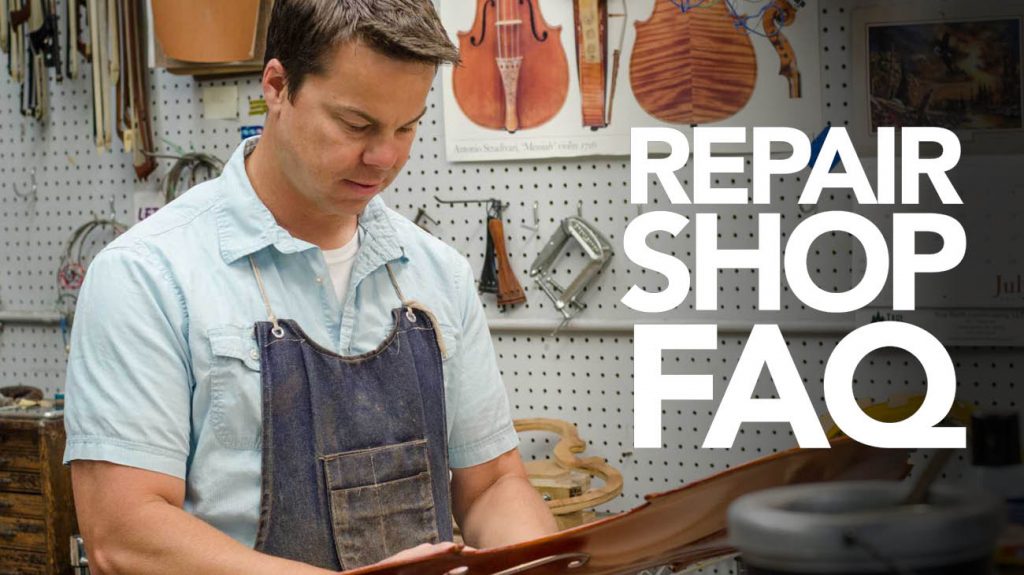 We often get questions about having an instrument repaired at Paige's Music. Here are some Frequently Asked Questions that will be helpful if you are considering sending in your instrument for service.
Q: Can you fix my instrument while I wait?
A: Although we are willing to look at an instrument to determine if there is a temporary repair that can be done, most of the time we need to do a more thorough inspection. Our normal process is to check the instrument in so our technicians can make sure we address all of the issues that may be causing the instrument not to function properly.
Q: Can you give me an estimate when I bring in my instrument?
A: In order to do a proper inspection, we check in each instrument and do a thorough inspection the following day to determine what is needed to bring your instrument back to its proper playing condition. We don't charge for estimates, no work is done until an estimate is approved, and there is never an obligation to have any repairs done.
Q: Can you give me an estimate on repair over the phone?
A: Since most of the cost involved in any repair is labor related, we really need to personally inspect your instrument to give you an accurate estimate. There is no charge for our technicians to look at your instrument and give you an estimate on repairs needed.
Q: Do you have loaner instruments?
A: We do have a large inventory of loaner instruments available for our repair customers to use while your instrument is in our shop. These loaners are included with our rental program and Annual Service Policies or available for a small fee for our other customers.
Q: If I didn't buy my instrument from you, will you still repair it?
A: We are always willing to work on individually owned instruments regardless of where they were purchased. However, there are some brands and models that we do not have manufacturer support for and are unable to do repairs that require disassembly or extensive cleaning.  There is no charge for us to look at your instrument and determine if we can offer repairs. We will contact you with an estimate before any work is completed.
Q: How do I get my instrument to you for repair?
A: You are always welcome to drop off your instrument during our normal store hours Monday through Friday 10-6 and Saturday 10-4. In most cases, we will check in it and give you a call with an estimate the following business day. We also make weekly visits to hundreds of schools across Indiana and can pick your instrument up and return it to the school typically in one week. You can check here on our website to see if we visit your school. Please call ahead of time if you'd like to have a loaner delivered.
Q: Do you sell parts?
A: We do occasionally sell parts, but due to fitment issues as well as the various manufacturer models and versions of particular instruments, it is always best for our trained technicians to look at your instrument. Some parts can be sold "over the counter", but we recommend calling and making sure that they're in stock and if we're able to sell it without inspecting the instrument.

Q: Do you do appraisals?
A: For general appraisals, we typically recommend that you search any of the various online reseller sites to get an idea of the going "market value" of your instrument. For some professional and specialty instruments, we do offer a written appraisal for a small fee. These instruments must be checked in and can take 1-3 days to complete the appraisal.