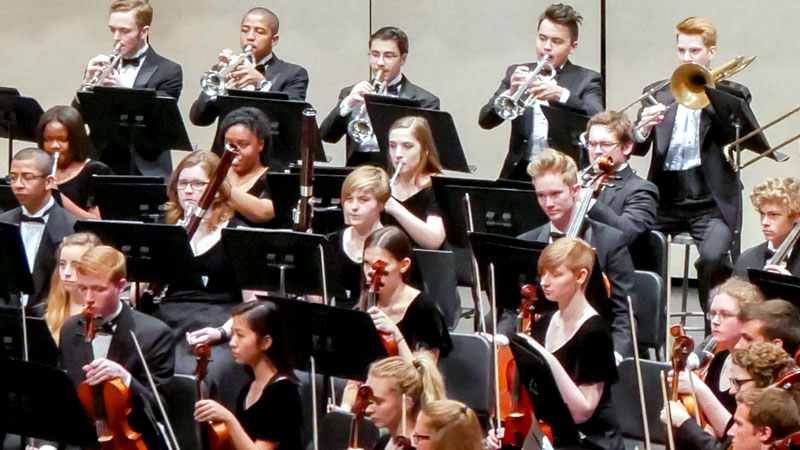 At Paige's Music, we carry many instrument options. Most instruments fall under a broad category of "student", "intermediate", or "professional".
Student-level instruments designed to be easy to play and easy to hold in the hands of beginning students. Student-level instruments are generally very budget friendly as it is difficult to have clear goals or commitment when your student is just beginning their music education.
Intermediate instruments provide a stepping-stone between student and professional-instruments. Intermediate instruments generally bring several features and design cues from professional instruments down to a more affordable level.
Professional instruments have the highest quality sound and ultimate-expressiveness, the two features essential to professional performance. These instruments are designed to be the very best instrument they can be and are constructed with the highest quality materials and the highest-level artisanship by the most experienced craftsman. These instruments often have advanced features that are only available at the professional level.
One of the questions we are often asked is "what level instrument is appropriate for my student?" The appropriate answer depends on several different factors:
What is my student's commitment?
Commitment is one of the most important factors in deciding the most appropriate level of instrument. If a student thinks they want to continue through high school and maybe even play at the collegiate level, they may require a higher-level instrument than a student who only wants to play through the 8th grade. Also, consider the commitment your student has shown up to this point. If your student is demonstrating discipline through consistent daily practice, they have shown a great deal of commitment to their musical growth and have given a good reason to look at a higher-level instrument.
What are my student's goals?
Goals are another way to measure the appropriate-level instrument for a student. In music, there is an infinite array of goals: being first chair in your section, receiving a gold for a solo, receiving a music performance scholarship, becoming a solo artist, etc. Generally, the higher the goal, the higher-level instrument you are going to need.
What is my budget?
One of the most important factors in choosing the right instrument is your budget. Student, intermediate, and professional instruments are generally priced in different tiers and these tiers can be at different price points depending on the brand. Thankfully, there are great instruments available with in each category. If you need a student-level trumpet, there are great options and there several great options if you need a professional-level instrument. At Paige's Music, we provide rent-to-own options and financing options for most of our instruments and can assist you in finding that meets your student's needs and your budget! If you think these two options work well for you, please call a sales associate at 1.800.382.1099.