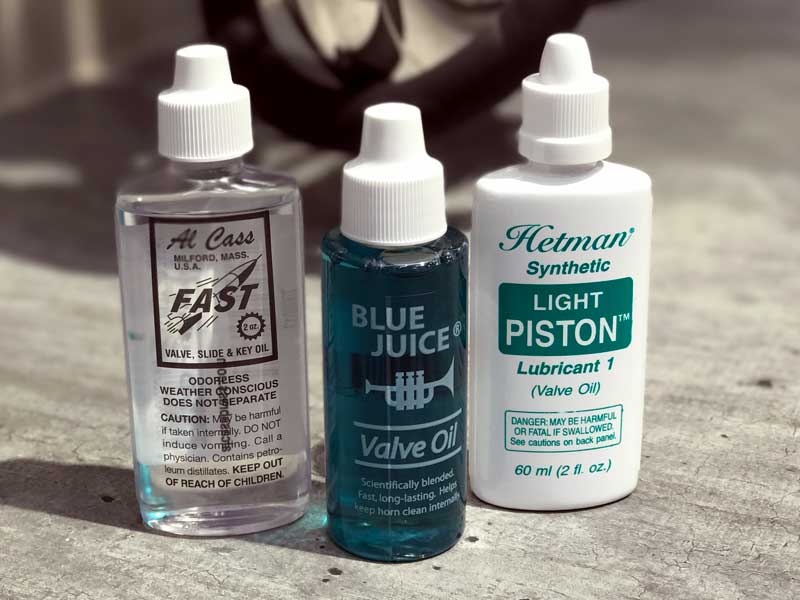 At Paige's Music, we are frequently asked "what valve oil do you recommend"? This answer can vary depending on the type and age of instrument as well as specific player preferences. Here is a short overview of our most popular options.
Al Cass Fast Valve, Slide, and Key Oil has long been a favorite amongst brass musicians for decades. Long considered the industry standard, this petroleum-based oil is a reliable favorite among our customers at Paige's Music and is a great choice if you are looking for a quality product at a great price.
If you are looking for a valve oil designed specifically for cleaning your valve, Blue Juice is a great option. The blue color of the oil comes from an anti-corrosion agent that provides extra protection for the valve and valve casing. If you are looking for a great oil with a little bit of extra cleaning power, this is a great option!
If you want a truly premium valve oil, the Hetman synthetic valve oil is a remarkable valve oil you should try! Available in various viscosities, these long-lasting, non-gumming lubricants will provide for an action that is smooth, quick and consistent. We use Hetman valve oil frequently in our repair shop!
In addition to their wide range of quality instruments, Yamaha produces a range of 100% synthetic oils. The oils produce long-lasting smooth action and fast response, the oils protect valves and valve casings from corrosion.
We carry all of these products year-round and encourage you to try them out and see if they are right for you and your instrument. All of these products are available for purchase in-store and on our website. As always, please visit our store, email us at sales@paigesmusic.com or call us at 1.800.282.1099 with any questions!