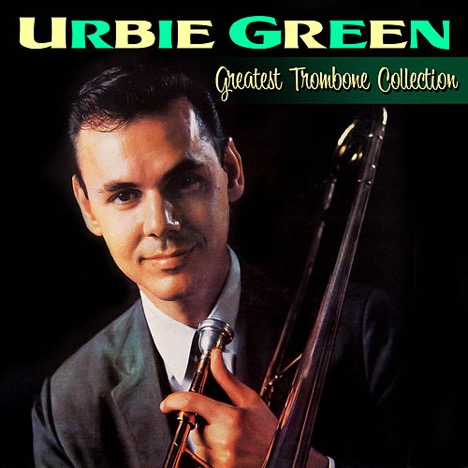 August 8th would have marked Urbie Green's 93rd birthday. Green was one of the most impactful trombonists in history. His sound, musicianship, and technique have inspired countless trombonists. A true virtuoso, Urbie Green has been recognized by many jazz, classical, and commercial trombonists as one of the prime reasons they chose and stayed with the trombone.
Last month at the International Trombone Festival 2019 at Ball State University in Muncie, IN James Nova of the Pittsburg Symphony Orchestra performed Urbie Green's "Green Bee" as part of the festival's opening ceremony. Green's version can be heard below. This tune was inspired by Rimsky-Korsakov's "Flight of the Bumble," and an Al Hirt version of this was used as the theme for the 1960s television series, The Green Hornet.
More information about Urbie Green can be found at UrbieGreen.com
Here is a biography found on his website:
Aug. 8, 1926, Mobile, AL – Jazz Artist, New York City
Martin trombonist Urban (Urbie) Green, known as the "trombonist's trombonist," is one of the true greats of jazz, among the elite of the world's trombone players. Urbie Green has toured with Woody Herman, Gene Krupa and Frankie Carle and has been cited numerous times in Down Beat magazine's annual critics awards. Green has also established an extensive career as a free-lance trombonist for recording artists such as Count Basie, Frank Sinatra, Leonard Bernstein, Louis Armstrong and others. He has approximately 30 albums under his own name, appeared in the film version of The Benny Goodman Story and appears at major jazz festivals. Lately his solo career has taken him around the world three times in as many years. Urbie's collaboration with Martin design engineers has led to innovations in the comfort of the hand brace and slide, an improved water hole with a curved key that empties easily in one turn rather than several shakes, and a goose neck that is chrome-plated to prevent players' clothing from becoming marked by brass.

To that select list of wonderful instrumentalists who have led their own dance bands to fortune and everlasting fame, you can add the name of URBIE GREEN. No one…but no one… plays smoother, warmer, more mellow trombone. Urbie Green was born and raised in Mobile, Alabama, and by the time he was sixteen was working professionally with Tommy Reynolds' band. There followed music and years with Jan Savitt, Frankie Carle, Gene Krupa, and finally, Woody Herman. In October 1950, Urbie became part of Woody Herman's Thundering Herd, and in 1954 won the Down Beat International Critics Award for NEW STAR. Urbie became one of the most sought-after trombonists for recording and club work in New York City. He is a multiple winner of the Most Valuable Player Award from the National Academy of Recording Arts and Sciences, and perhaps the most recorded musician of all time. He has recorded with Gene Krupa, Woody Herman, Benny Goodman, Louis Armstrong, Count Basie, Leonard Bernstein, Frank Sinatra, Billie Holiday, Tony Bennett, Peggy Lee, Pearl Bailey, Ella Fitzgerald, Mile Davis, Charlie Parker, Coleman Hawkins, Dizzy Gillespie, Barbara Steisand, Perry Como, Aretha Franklin, Quincy Jones, J.J.Johnson, Antonio Carlos Jobim, Burt Bacharach, Buck Clayton and Herbie Mann, to name a few. He was seen and heard in the movie "The Benny Goodman Story", and shortly afterwards fronted the Benny Goodman Orchestra for a three month tour. He has appeared in major jazz festivals, motion pictures, concert halls, nightclubs, radio, television and the White House. In addition, Urbie has performed at Lincoln Center with an all-star band led by Benny Carter in a special tribute to Ella Fitzgerald, and in Thailand, with the Benny Carter all-stars in a special performance for the King of Thailand.
Here is a great article from Michael Dease about the lasting impact Urbie Green has had on him.
https://jazztimes.com/features/tributes-and-obituaries/michael-dease-remembers-urban-clifford-urbie-green/
Urbie Green & 21 Trombones – The Green Bee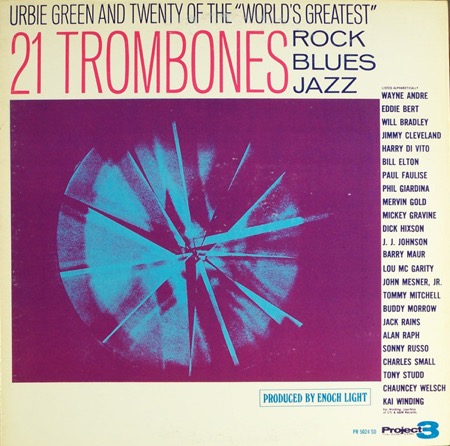 21 Trombones featuring Urbie Green – Stardust
In 1969 Green was a featured soloist at with Duke Ellington at a White House event. He can be heard playing Ellington's "I Got It Bad (And That Ain't Good) in the video below.