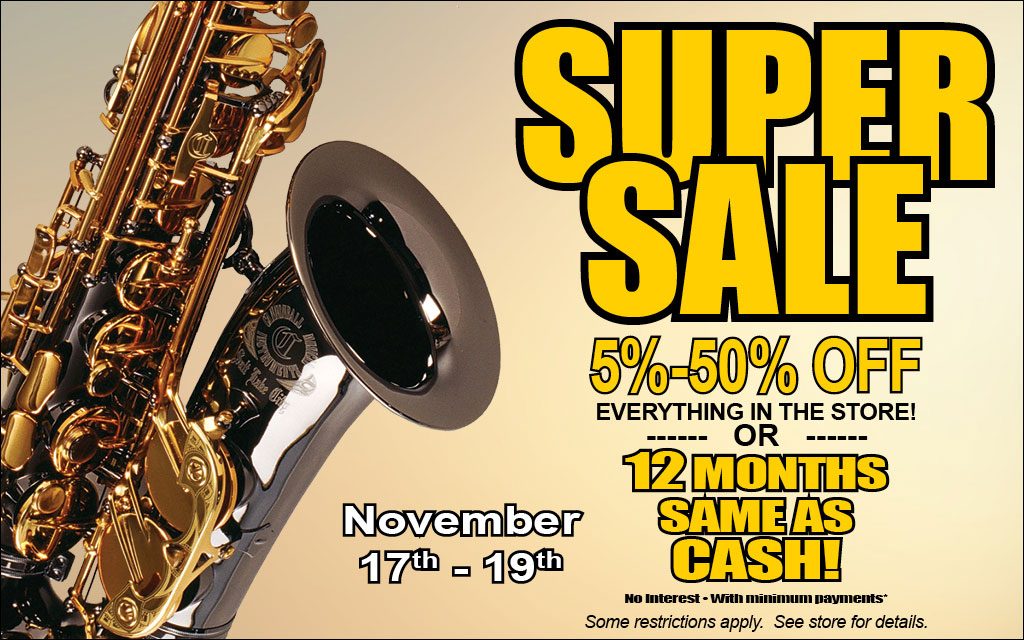 The "Super Sale" at Paige's Music is one of our biggest sales of the year. If you are thinking of "stepping" up to an intermediate or advanced level instrument this is the best time to do it. We would love to help you find the best instrument for your advancing student or answer any questions about this special promotion.
Here's how it works – Come to the store and draw a coupon that will allow you to "SUPER SIZE" your savings. The coupons range from 5%-50% OFF* our already low prices!
OR – If you would rather not use the coupon that you selected, you can use our 12 months same-as-cash* option. There's no interest as long as your balance is paid in full within 12 months. There are minimum payments due each month and our retail staff can help estimate what those might be.
In addition to these great savings, this is a great time to take advantage of manufacturer rebates for the rental or purchase of new instruments! More information on these rebate programs can be found here: https://island.news.paigesmusic.com/fallwinter-rebates-at-paiges-music/
In addition to these rebates, Yamaha is offering a double rebate during the November Super Sale! The standard rebates of $50 or $100 will be double to $100 and $200 respectively.
The sale runs from Thursday, November 17th through Saturday, November 19th. Our hours are Monday – Friday: 10-6 and Saturday: 10-4.
*Offers valid 11/17/16 through 11/19/16. One coupon per family. 12 Months Same-as-Cash subject to credit approval and applies to all instrument and accessory purchases $399 or more. Not applicable toward existing account balances or repairs. Offers cannot be combined. See store for details.