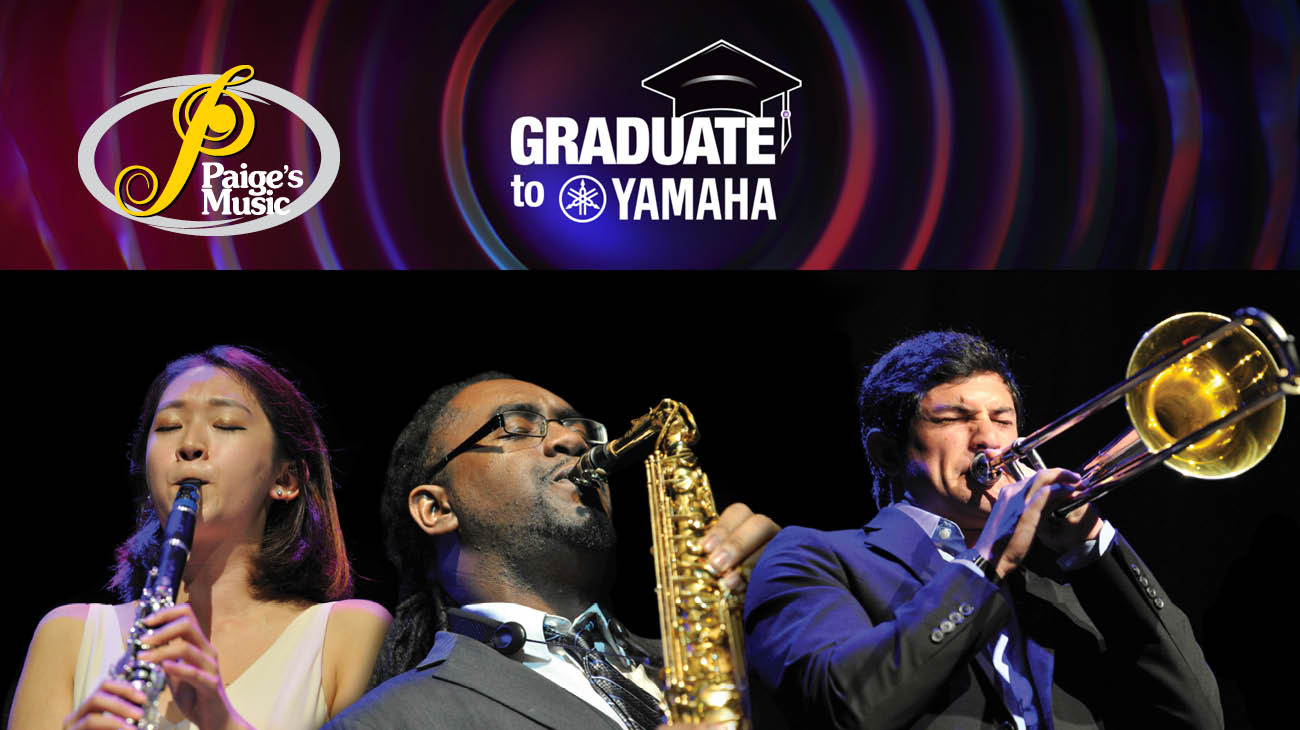 Graduation typically means ordering an over-priced cap and gown, long ceremonies with longer speeches, open house celebrations, and more pictures than you may ever want to take. Thankfully musicians can enjoy a more pertinent graduation in the form of the Graduate to Yamaha promotion!
Yamaha is currently offering $50 rebates on all new intermediate-level instruments and $100 on all new professional–level instruments purchased between April 1, 2019 and June 30, 2019. We have an extensive number of qualifying models including flutes, clarinets, soprano saxophones, alto saxophones, tenor saxophones, trumpets, French horns, trombones, and euphoniums in stock ranging from intermediate to custom-level instruments in-stock.
In addition to outright purchase, Paige's Music offers many of these instruments on our famous Rent-to-Own Program (which includes free repair and replacement, exchange, return, and early purchase discount options), or on our 18 months deferred interest* option. There's no interest as long as your balance is paid in full within 18 months. There are minimum payments due each month and our retail staff can help estimate what those might be.
Please visit our store to work with our instrumental specialists to find the perfect model that suits your style.
Here is a list of qualifying Yamaha models:
Instrument Type
Eligible Models
Flute
YFL-3xx
YFL-4xx
YFL-5xx
YFL-6xx
YFL-7xx
YFL-8xx
YFL-Axxx
YFL-Bxxx
YPC-3xx
YPC-6xx
YPC-8xx
Clarinet
YCL-4xx
YCL-5xx
YCL-6xx
YCL-8xx
YCL-Cxx
YCL-Sxx
Double Reed
YOB-4xx
YOB-8xx
YFG-8xx
Saxophone
YSS-4xx
YSS-8xx
YAS-3xx
YAS-4xx
YAS-5xx
YAS-6xx
YAS-8xx
YTS-3xx
YTS-4xx
YTS-5xx
YTS-6xx
YTS-8xx
YBS-52
YBS-62
Trumpet
YTR-3xxx
YTR-4xxx
YTR-5xxx
YTR-6xxx
YTR-8xxx
YTR-9xxx
Cornet
YCR-6xxx
YCR-8xxx
YCR-9xxx
Flugelhorn
YFH-6xxx
YFH-8xxx
Trombone
YSL-4xx
YSL-5xx
YSL-6xx
YSL-8xx
YBL-4xx
YBL-6xx
YBL-8xx
Horn
YHR-5xx
YHR-6xx
YHR-8xxx
Low Brass
YAH-8xx
YBH-3xx
YBH-6xx
YBH-8xx
YEP-3xx
YEP-6xx
YEP-8xx
YBB-3xx
YBB-6xx
YCB-6xx
YCB-8xx
YEB-3xx
YEB-6xx
YFB-6xx
YFB-8xx
If you have any questions about this rebate promotion, please contact us by phone at 1-800-382-1099 or by email at sales@paigesmusic.com.
More details on Graduate to Yamahacan be found here:
https://usa.yamaha.com/promotions/graduate_to_yamaha_2019/index.html
*18 Months Deferred Interest subject to credit approval and applies to Yamaha instrument and accessory purchases of $399 or more. Not applicable toward existing account balances or repairs. See store for details.