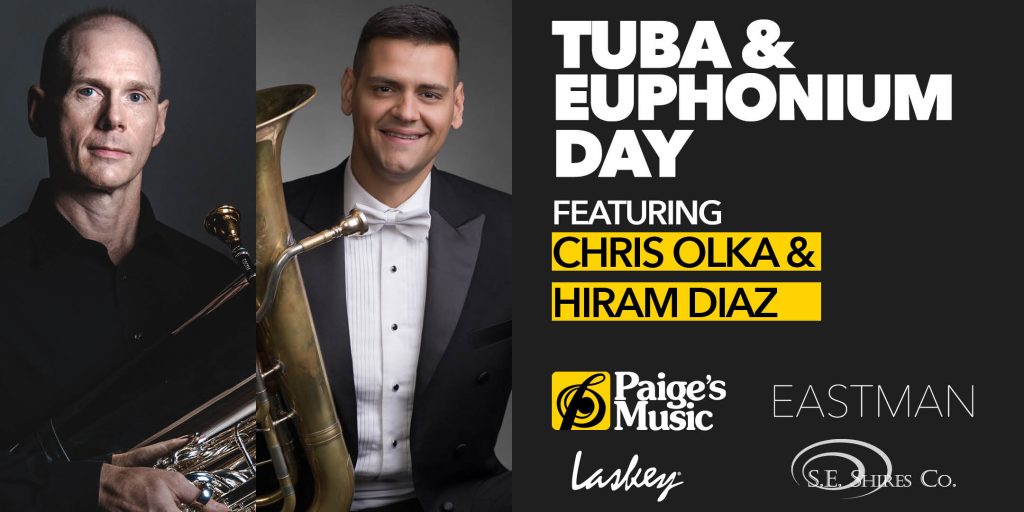 As the low brass specialist here at Paige's Music, I couldn't be more excited to present our first annual Tuba & Euphonium Day on Saturday, March 12 – sponsored by Eastman/Shires.
For our first event of this kind, we're going big. Not only will we have a huge variety of professional Eastman tubas and S.E. Shires euphoniums (perhaps the best selection of Shires euphoniums in the country, currently) available for testing and purchase – we are thrilled to welcome two of the world's finest low brass musicians as special guest clinicians: Chris Olka, principal tuba with the Cincinnati Symphony Orchestra, and Hiram Diaz, euphonium player with "The President's Own" United States Marine Band!
Our two guests will be at Paige's during the day of March 12 to help customers pick out the right tuba or euphonium, followed by a special master class from each of them that evening. Here's the rundown of what all will be happening at Tuba & Euphonium Day:
10 a.m.-noon – Instrument/mouthpiece fittings & testing – Eastman tubas, S.E. Shires euphoniums, and Laskey mouthpieces | 30-minute appointments with Chris Olka, Hiram Diaz, and Chuck Kerrigan from Eastman Winds. If you are interested in trying out tubas or euphoniums that day, you may make an appointment by clicking here. Appointment slots are limited, so don't wait!
I will release a full list of products available soon, but we will have two of the most exciting and talked about low brass instruments being made today – the Eastman EBC836 6/4 "York" style tuba, and the S.E. Shires Custom SOLO model!
Noon-2 p.m. – Break. Our guests will be out of the store during this period, but you are still welcome to come browse!
2-3 p.m. – Fittings & testing continued. Make an appointment by clicking here.
3 p.m. – Tuba Master Class with Chris Olka. If you plan to attend, please click here to RSVP!
If you want to play for Chris or Hiram, select that option in the RSVP form. We will reach out to those selected to confirm. If you are selected to play, please come prepared with your instrument and music! Master class spots are EXTREMELY limited!
4:30 p.m. – Euphonium Master Class with Hiram Diaz – If you plan to attend, please click here to RSVP!
6:30 p.m. – Meet & greet with Hiram Diaz
I truly can't wait to share my love of all things tuba and euphonium with you at this event. You will most definitely not want to miss it!
Please feel free to contact me if you have any questions about Tuba & Euphonium Day.