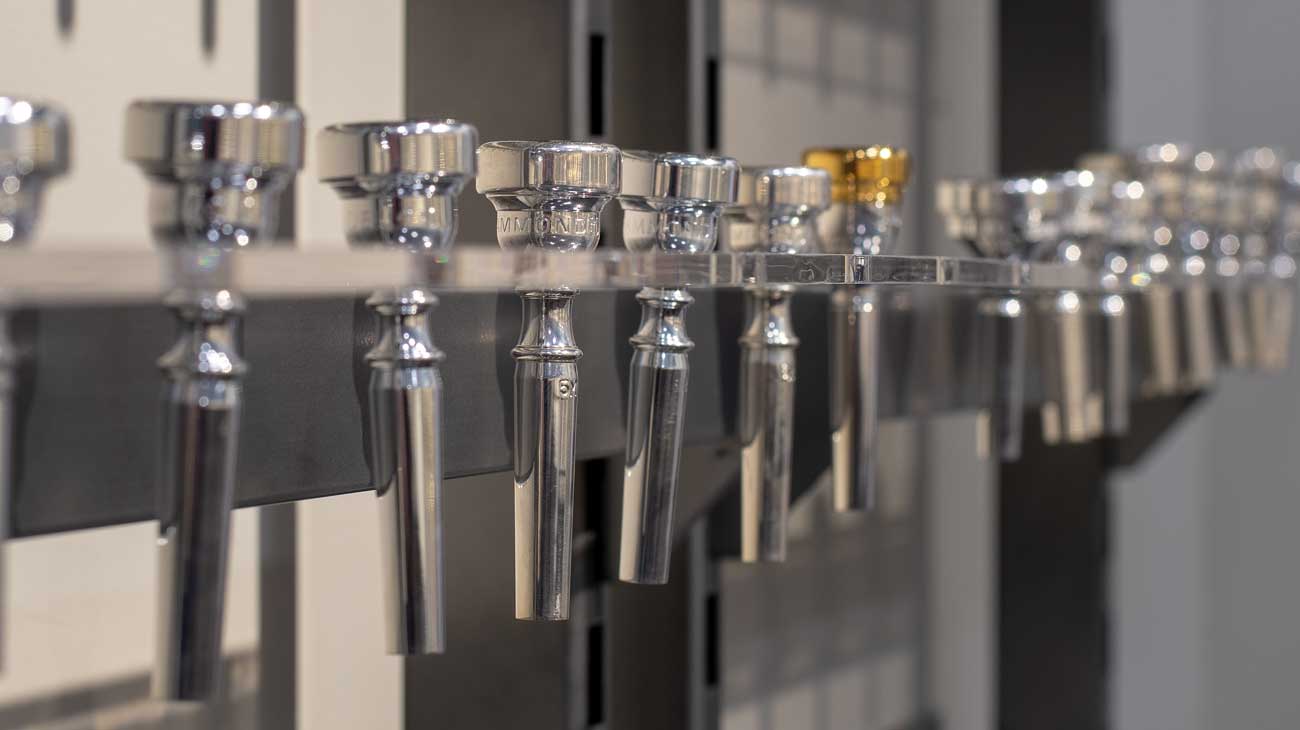 Paige's Music has been the one-stop shop all things band and orchestra in central Indiana since 1871 and we are constantly looking to improve our service and product offerings.
The newest addition to our Indianapolis location is a brass mouthpiece display featuring more than 60 mouthpieces specifically chosen by our brass specialists, Ross Werner and Tucker Woerner based on their knowledge and input from local teachers and professionals. Anyone who visits our store will be able to try any and all of these mouthpieces in the pursuit of perfecting their sound.
The mouthpiece is an integral part of every performer's arsenal to meet the demands of their specific needs. We will constantly update our mouthpiece inventory to ensure that we cover the broad spectrum of mouthpiece needs of everyone from beginning students to seasoned professionals. This wide selection of mouthpieces options combined with our first-class customer service will ensure that you have 100% confidence in your mouthpiece choice.
If you are ever in the store and don't see exactly what you're looking for please let us know! We have access to almost any mouthpiece in production and we are always happy to track down what you are specifically looking for.
| | |
| --- | --- |
| Name | Instrument |
| Bach 1c | Trumpet |
| Bach 3c megatone | Trumpet |
| Bach 1 1/2c | Trumpet |
| Bach 3c | Trumpet |
| Bach 5c | Trumpet |
| Bach 7c | Trumpet |
| Bach 7d | Trumpet |
| Bach 3b | Trumpet |
| Yamaha 11 | Trumpet |
| Yamaha 13a4a | Trumpet |
| Yamaha 14a4a | Trumpet |
| Yamaha Bobby Shew (lead) | Trumpet |
| Yamaha Eric Miyashiro | Trumpet |
| Schilke 13a4 | Trumpet |
| Schilke 12 | Trumpet |
| Hammond 4mb | Trumpet |
| Hammond 5mb | Trumpet |
| Hammond 5mlh | Trumpet |
| Hammond 6mb | Trumpet |
| Faxx Plastic Clear 3c | Trumpet |
| Faxx Plastic Black 7c | Trumpet |
| Accent 5c | Trumpet |
| Accent 7c | Trumpet |
| Bach 3c Gold | Trumpet |
| Marcinkiewicz 7pb | Piccolo Trumpet |
| Schilke 13a4a | Piccolo Trumpet |
| Bach Flugel 3c | Flugelhorn |
| Bach Flugel 1 1/2 c | Flugelhorn |
| Hammond 6mp | Mellophone |
| Hammond 5mp | Mellophone |
| Holton MDC | French Horn |
| Accent 11 | French Horn |
| Holton SC | French Horn |
| Schilke 28 | French Horn |
| Yamaha 32c4 | French Horn |
| Schilke 30 | French Horn |
| Bach 11c | Trombone |
| Bach 7c | Trombone |
| Bach 6.5 al | Trombone |
| Dennis Wick 6bs | Trombone |
| Hammond 10ml | Trombone |
| Hammond 11ml | Trombone |
| Hammond 20 bl | Bass Trombone |
| Hammond 21 bl | Bass Trombone |
| Bach 1g | Bass Trombone |
| Bach 1 1/2 g | Bass Trombone |
| Bach 3g | Trombone |
| Bach 4g | Trombone |
| Bach 5g | Trombone |
| Bach 6.5AL | Trombone |
| Hammond 12 ml | Trombone |
| Dennis Wick 5AL | Trombone |
| Dennis Wick 4AL | Trombone |
| Faxx Plastic Clear 6 1/2al | Trombone |
| Accent 6.5 al | Trombone |
| Dennis Wick sm3u | Euphonium |
| Dennis Wick sm4u | Euphonium |
| Dennis Wick sm5u | Euphonium |
| Schilke 45 51D | Euphonium |
| Schilke 55 51D | Euphonium |
| Helleberg | Tuba |
| Dennis Wick 3L | Tuba |
| Faxx Plastic Black 24aw | Tuba |
| Accent 18 | Tuba |