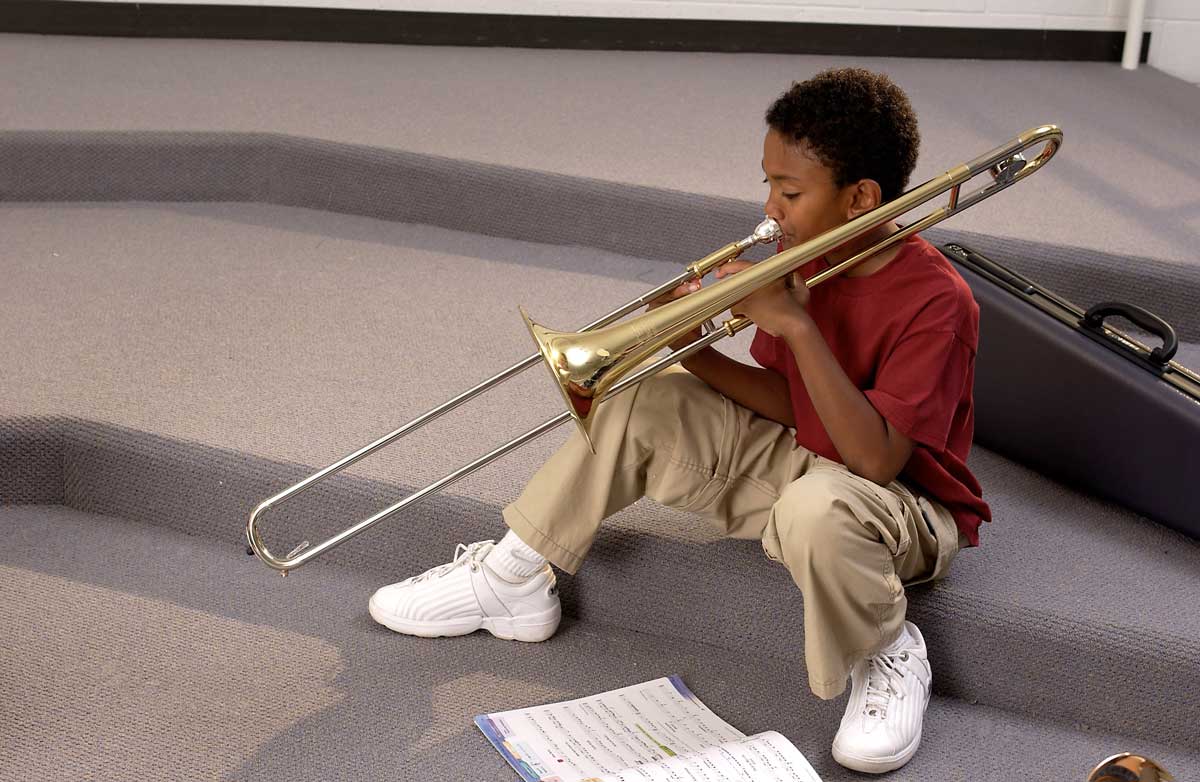 Choosing a student's first instrument can be a daunting task. The internet is flooded with all kinds of instruments of varying qualities and prices. I like to think that instruments fit within one of four distinct categories: cheap instrument-shaped objects, viable student model instruments for beginners, intermediate instruments for the advancing player, and professional models for the musician who needs the best instrument available.
Set your child (and yourself) up for success.
The last thing you want to do is spend money on your student's new activity only to have them lose their interest and your investment. One of the most common reasons we hear for students quitting music is frustration with their progress. Like mastering any skill, learning an instrument takes time, dedication, and consistent practice. This process can be made exponentially more difficult by supplying your child with an instrument of inferior quality. Setting your student up with a dependable instrument means her attention can be focused on learning music and not trying to figure out why her instrument isn't working. It is important to keep in mind that a musical instrument is something that the student will use on a daily basis, and an unsatisfactory instrument can lead to daily frustration that may sour a student's taste on playing music.
Value = Benefits ÷ Cost
What do you value most in a product? Many value functionality. For some it's aesthetics. Others may gravitate to the lowest possible price. I personally strive to find the best balance between price and quality. I want to know definitively that what I'm spending my money on is worth the investment. Low quality, cheaply made instruments are easily found online. While they may be tempting at first, an informed buyer should realize that the initial purchase price of an instrument is not always the total investment.
A high quality instrument does not always equate to a high priced instrument. As consumers we have the option to spend as little or as much as we want. While it is often tempting to rush out and buy the cheapest instrument shaped object available there are several potential dangers to be aware of.
• Consider the limitations of the instrument. Does this instrument meet the requirements of my student's private teacher or band/orchestra director? Will this instrument's quality lead to future frustration? How long until my student needs something better?
• Consider the total cost. Will this instrument's condition/quality lead to costly repairs? Can a repair shop get parts for this off brand instrument? If I upgrade later will I be able to get anything for this one?
• Consider the possibility that your student may switch instruments. It is very common for students to begin band on one instrument and switch to another (e.g. clarinet to saxophone, baritone to trombone, violin to viola, etc.). The rent-to-own plans at Paige's Music give you the flexibility to transfer a student's rent credit from one instrument to another.
Features you need in a beginner's instrument
Above all else a student model instrument needs to be functional. Investing in a high quality instrument guarantees that the instrument will be in good working order, made from safe materials, and it will prepare your student for musical growth. We work closely with local schools and band directors to make sure that we supply the instruments and accessories that teachers and players approve of.
Upkeep and Coverage
There are many great used instruments in the marketplace, but there are also many needing work that can eclipse the total value of the instrument. Wooden instrument can develop cracks, keys need periodic adjustments, pads wear out and deteriorate over time (whether the instrument is being played or not), slides go out of alignment, etc. Like most things instruments require regular maintenance and preventative care. By choosing a rent-to-own plan through Paige's Music you can take solace in knowing that all repairs and maintenance are covered as well as full replacement coverage in the event your instrument is stolen or destroyed.
Still not convinced?
Maybe you are of the mindset that just like soccer, karate, and horseback riding, band is just another hobby of the hour. You might also be thinking "If they stick with it I'll look at spending more on a better instrument down the road." I completely understand and agree with those thoughts, which is why I would consider looking into the no obligation rent-to-own Debut Instrument program at Paige's Music. While you're on the plan you will always have a high quality instrument with full repair and replacement coverage, and you will accrue rent credit that can be applied to upgrading down the road. If you decide to purchase your instrument elsewhere or if you already own an instrument please feel free to bring it in for a free, no-obligation repair and maintenance estimate.