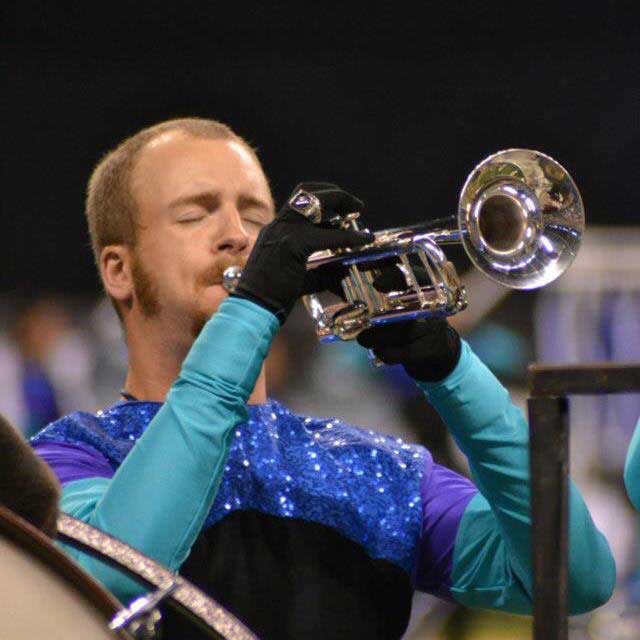 At Paige's Music we get asked all the me if we teach lessons or know people who do. We know plenty of private instructors and even have a list on our website, but we wanted to go a little further and interview them so you have a beer picture of which teacher might be best for you!  Our guest today is trumpet educator and performer, Perry Reid.
Where did you go to school?
I graduated from Butler University with a Bachelors in Trumpet Performance. I studied with Allen Miller during my time there.
How long have you been playing and teaching trumpet?
I've been playing and teaching professionally since 2012, and for many years before that in college, high school, and middle school.
Where are you currently performing?
I consider myself a "freelance" performer, which means I play for many different groups in many different styles. I perform often with local symphony orchestras, jazz big bands, musicals, show choirs, churches, weddings, in addition to maintaining my teaching studio at several Indy area schools.
What music do you enjoy playing/teaching the most?
I'm a big believer that music education transforms lives inside and out of the band room. I most enjoy being part of a positive activity that makes wonderful memories and experiences for my students, while teaching them to be well rounded hard working adults. Teaching lessons, jazz bands, marching bands, and trumpet masterclasses achieves this goal so I enjoy them all!
Playing wise I enjoy each of the styles and genres I play. One of my favorite musicals I ever played was "The Hunchback of Notre Dame" written by Alan Menken. It is classical, but has a mix of high notes, exposed solo lines, piccolo trumpet, it was a blast!
What equipment do you use?
I play on Powell Trumpets for my 2 primary Bb's and C, a Stomvi for my piccolo, and Yamaha for my flugelhorn. There are so many good brands of mouthpieces, I play on a mix of Hammond and GR mouthpieces (and many more at home "in a drawer"). Finding the right horn and mouthpiece is critical so having a private teacher with knowledge of fitting the right equipment is crucial.
Most memorable musical experience?
My favorite musical experience would be any of the 3 years I marched with the Blue Devils Drum and Bugle Corps (2010-2012). The experience of being taught by that staff, performing those shows, and making lifelong friends is unforgettable. I use my knowledge from those summers everyday in playing and teaching.
Short bit of advice for aspiring students?
"Whether you think you can, or think you can't….you're right!" – Henry Ford
Whether its playing the trumpet, getting better grades in school, or figuring out what career you want, your approach and attitude are paramount in your success. If you need help with that first thing (the trumpet!) connect with a qualified teacher in your area for help, our job is to help you!
What are some hobbies you have outside of music?
Golf and sim racing online. They are both tons of fun!