We have two clinics with exciting, dynamic jazz artists coming up in the next couple weeks here at Paige's, and we'd love to have you join us!
Bobby Shew Trumpet Clinic – Tuesday, November 28, 2017 – FREE!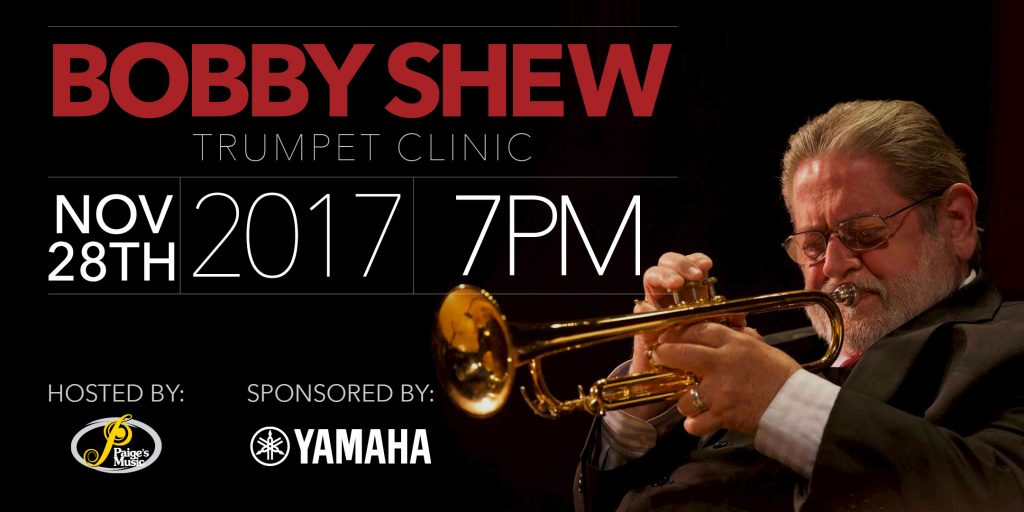 Legendary jazz and studio musican Bobby Shew will be performing and holding a clinic on the Paige's Music brand new sales floor on November 28th at 7pm. A Yamaha trumpet artist, Shew has been performing professionally since the age of thirteen. A versatile artist, Shew has performed and recorded both as a sideman and a leader in his long and storied career, notably with the Tommy Dorsey Orchestra, Woody Herman's band, Art Pepper, Horace Silver, Bill Hollman, Oliver Nelson, Benny Goodman, Maynard Ferguson, Neal Hefti, Don Menza, and others.
As a Los Angeles-based artist, Bobby Shew became a prolific studio musician as well as a big band lead player and soloist. He can be heard on TV shows like 'Hawaii 5-O', 'Streets Of San Francisco', 'Bob Newhart', 'Mary Tyler Moore', 'Midnight Specials', 'Don Kirschner Rock Concert', 'Happy Days', 'Laverne And Shirley', and 'Eight Is Enough.' His work on soundtracks includes 'Grease I and II', 'Rocky I and II', 'Six-Pack', 'The Muppet Movie', 'The Drivers', and 'Taxi'.
As well as being an active clinician and educator, Bobby Shew has acted as National Trumpet Chairman for the International Association of Jazz Educators for 16 years, as well as authoring numerous articles for various trade magazines around the world.
The clinic and concert are free, and seating is very limited! We recommend that you RSVP through the Paige's website as soon as you can. Hope to see you there!
---
Grace Kelly Saxophone Clinic – Tuesday, December 5, 2017 – FREE!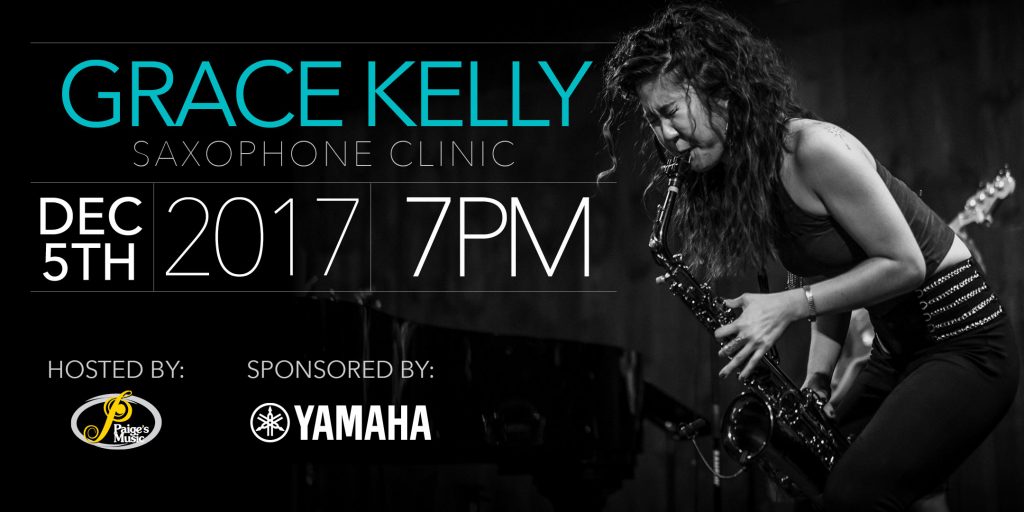 On December 5th, Paige's Music will be hosting saxophonist, singer, composer, producer, educator, and clinician Grace Kelly. One of the most exciting young stars in the industry today, Kelly has performed over 800 concerts in more than 30 countries and released 10 albums to date. A regular on the Tonight Show band with Jon Batiste, Grace Kelly has performed with high-caliber artists like Harry Connick Jr, Wynton Marsalis, Dave Brubeck, Steve Martin, Tina Fey, Martin Short, Maya Rudolph, Emma Stone, Lin Manuel, Questlove, Esperanza Spalding, Lee Konitz, Phil Woods, Ron Carter, David Sanborn, Marcus Miller, Dianne Reeves, Dee Dee Bridgewater, Huey Lewis and Gloria Estefan, among others.
Kelly's style has been praised as a forward-thinking combination of styles and influences from jazz to pop to Broadway shows to the Beatles. She released her first album, Dreaming, when she was only 12 years old, and has continued to release album after album in the years since. Her 2016 album Trying to Figure it Out was voted the #2 album of the year in the 2016 Downbeat Magazine Reader's poll, and Kelly herself has been the recipient of numerous listener's choice awards, including "Alto Saxophonist of the Year" by NYC Jazz Fans Decision 2016.
The free performance and clinic will begin at 7pm on December 5th in the Paige's showroom, and there is very limited seating. We recommend that you RSVP on the Paige's website– seating will go quick!