We are excited to announce that Jeff Coffin will be here at Paige's Music on March 31st. Jeff will be giving a saxophone clinic and we encourage you to bring your instrument for the event!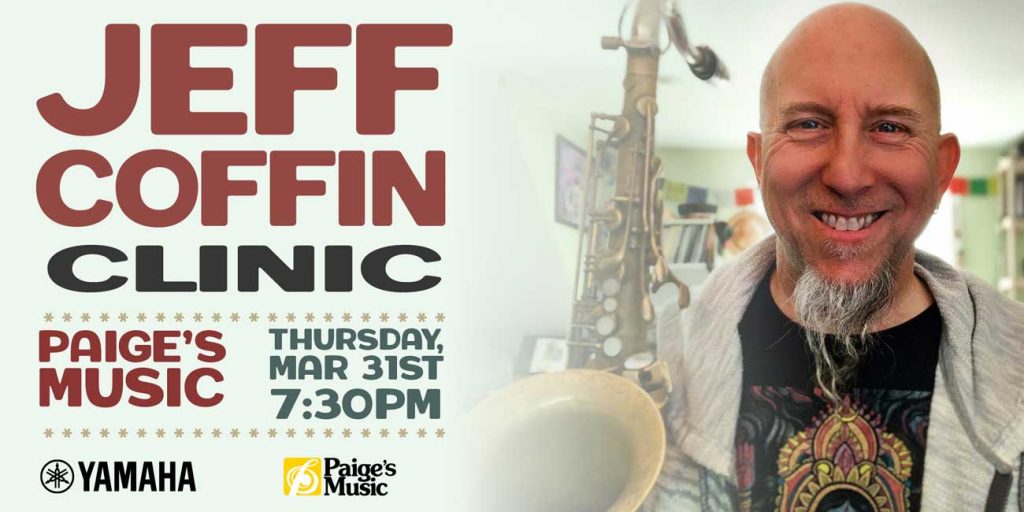 Please follow this link to reserve a seat.  Due to the size of our retail showroom, we only have room for 100 people for the clinic.
Jeff Coffin is a globally recognized saxophonist, composer, educator, and is a member of the legendary U.S. rock group, Dave Matthews Band. You may also know him from his 14 years, and 3 Grammy Awards, with the genre-defying Bela Fleck & the Flecktones. Jeff fronts numerous groups when not touring with DMB and has released 17+ solo CD's on Ear Up Records.
Coffin is known for his musical passion, his deep commitment to music education, and his continued dedication to improvisational music.
Jeff is also a Yamaha Performing Artist & Clinician, a Boston Sax Shop Ambassador, teaches improvisation at the prestigious Vanderbilt University, authored numerous music books, authored a children's book, produces, engineers, mixes, draws, and runs his own critically acclaimed record label, Ear Up Records.