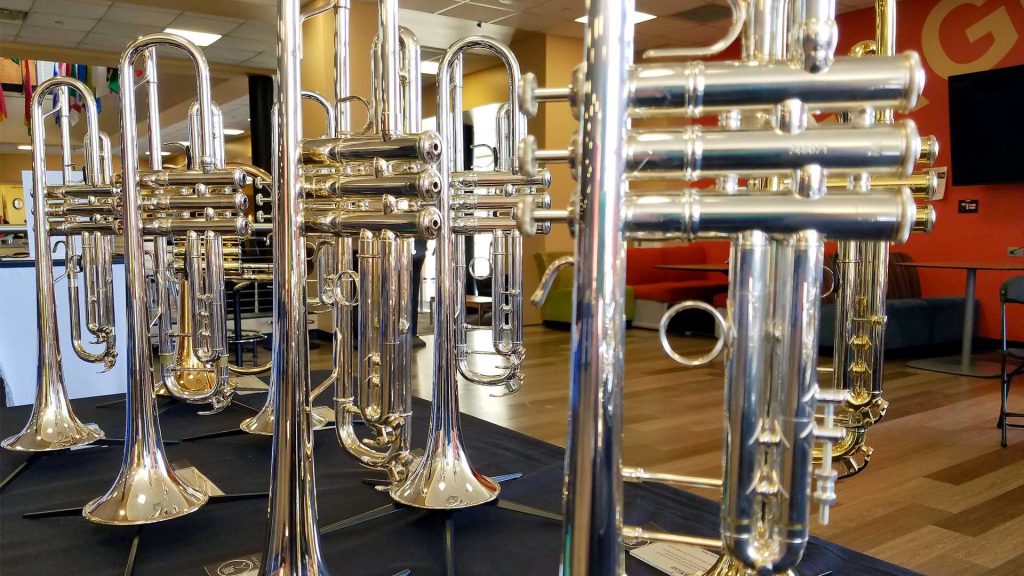 This past Sunday, I was proud to represent Paige's Music at the 2nd Annual University of Indianapolis Trumpet Day! This event is full of dozens of ready-to-play trumpets for attendees to try, trumpet centered organizations and programs, and features prominent local and international artists.
I always enjoy attending events such as this because, as a trumpet player, I get to meet dozens of fellow players and "talk shop" about the intermediate, professional, and custom line trumpets we carry here at our brick-and-mortar location. I encouraged people to try the instruments first-hand to get a true feel of a new instrument, whether they are on the market or just want to try something new for fun.
One of the most popular horns of the day at our Paige's Music booth was the custom Yamaha Bobby Shew YTR-8310Z Trumpet. With a large percentage of the standard bracing removed as well as a smaller bore size, this extra-lightweight trumpet has a very bright tonal quality and had musicians of every level and style excited to try. Other highly requested try-outs were the Yamaha Flugelhorn YFH-631G and the Yamaha Piccolo YTR-9835. The flugelhorn, always a fun instrument to play in the style of a trumpet with the mellow sounds of a french horn, features a two piece, gold brass bell, thumb trigger for intonation, and has an excellent tonal range. The piccolo trumpet allowed musician's to easily play an octave above where a typical Bb trumpet range lies. The YTR-9835 was developed by Yamaha in collaboration with David Washburn of the LA Chamber Orchestra, comes in the silver finish, and contains 4 separate leadpipe stems (2 with trumpet receivers in both Bb and A, and 2 with cornet receivers also in Bb and A).
However, I feel the major highlights (which had patrons waiting in excited anticipation throughout the day!) were the arrivals of the legendary Doc Severinsen and Rex Richardson. Doc and Rex were both incredibly generous with their time and took a few minutes after their arrivals to peruse the varying booths, instruments on display, and meet fans of all ages before each presenting his own masterclass. I myself was fortunate enough to have a quick meet and greet with Doc! This already exciting weekend concluded with both renowned artists performing in an evening concert with our very own Indiana Wind Symphony.
Whether you have been playing for 20 days or 20 years, the University of Indianapolis Trumpet Day is most definitely worth attending for trumpet players of all ages, and I look forward to next year's program. I would like to thank Larry Powell, Adjunct Professor of Trumpet with the University of Indianapolis, for inviting me and Paige's Music to be a part of this great event.