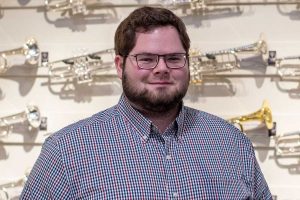 Hello everyone, my name is Alex Carter and I am the new Trumpet specialist at Paige's Music. Not originally being from Indiana, I only learned about the store six years ago after I had moved here to pursue graduate studies at Ball State University. Like most young musicians, I began band classes in 5thgrade and the reason I chose Trumpet is because that is what we had at our house! Lucky for me though, it worked out and I enjoyed playing it.
When time for university studies came I decided to pursue a bachelor's degree for music education and performance. While I didn't go on to become a band director, my passion for teaching was (and is) still alive so I continued to practice and learn about trumpet and ended up at the University of Michigan for a Master's degree and began teaching lessons outside of school. Upon graduating I came to Indiana to continue studying how to teach trumpet and performing with the Da Camera Brass Quintet and several regional orchestras in the central Indiana area.
In the last three years I have been performing around Indianapolis, and subbing in the Louisville Orchestra and Fort Wayne Philharmonic. I have also continued teaching students as part of the faculty at Anderson University and Purdue University – Fort Wayne. I love talking all things trumpet and always enjoying trying new horns, mouthpieces, mutes… you name it! If you ever have any questions please feel free to contact me or come on in to the store. I look forward to meeting all of you and helping in any way I can.
Alex Carter
317-842-2102
317-382-1099
317-813-2465 (direct line)
acarter@paigesmusic.com
www.paigesmusic.com