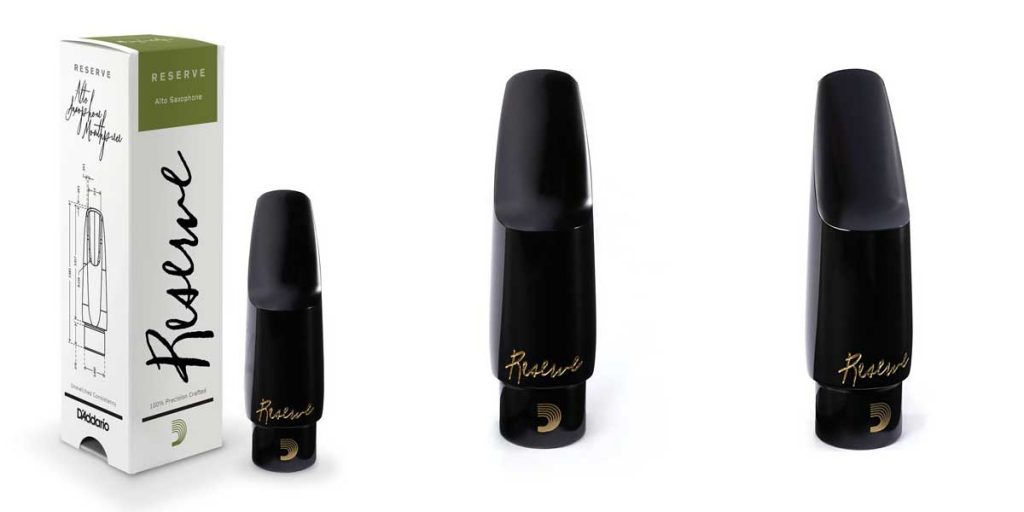 We're excited to announce that we're now carrying D'addario's line of Reserve mouthpieces for Alto Saxophone! The MJR-D145, MJR-D150, and MJR-D155 all feature an innovative oval chamber, producing an excellent response and full, dark tone character.
While D'addario beta tested the prototype models by shipping them to over 100 artists, teachers, and students, I was fortunate enough to get to spend some time on each one of them personally, and was very impressed by the results.
The 145 and 150 have a medium facing length, and the 155 has a long facing. The 145 has the smallest tip opening, at 1.45 mm, while both the 150 and 155 have tip openings of 1.50 mm.
I was astounded by how responsive the Reserve line is, while still maintaining a high level of control. The 145, with the smallest tip opening, was probably my personal favorite, with the perfect amount of resistance and a nice, tasteful tone color. It's flexible enough though that if you push it, you can get a nice range of timbre with little effort.
While the 150 and the 155 are a little bit brighter relative to the 145 and a little bit harder to rein in (the articulation on the 155 was a particular point of contention for me), the rich, full tone is more than worth the extra bit of effort. I will also concede that I tend to play on very soft reeds, and these mouthpieces are designed to play optimally with a strength 2.5-3+ reed, which would iron out my articulation trouble handily.
All three mouthpieces have a nice, dark character with enough of a strong tonal core that they never stray into dead or dull territory.
All in all, I had more fun testing out these mouthpieces than I have playing alto in quite a while! Other testers agree, praising the sound and consistency of the mouthpiece. But don't just take our word for it, come by the store and test out all three of them if you're in the neighborhood! I guarantee that your curiosity will be rewarded by a stellar playing experience.