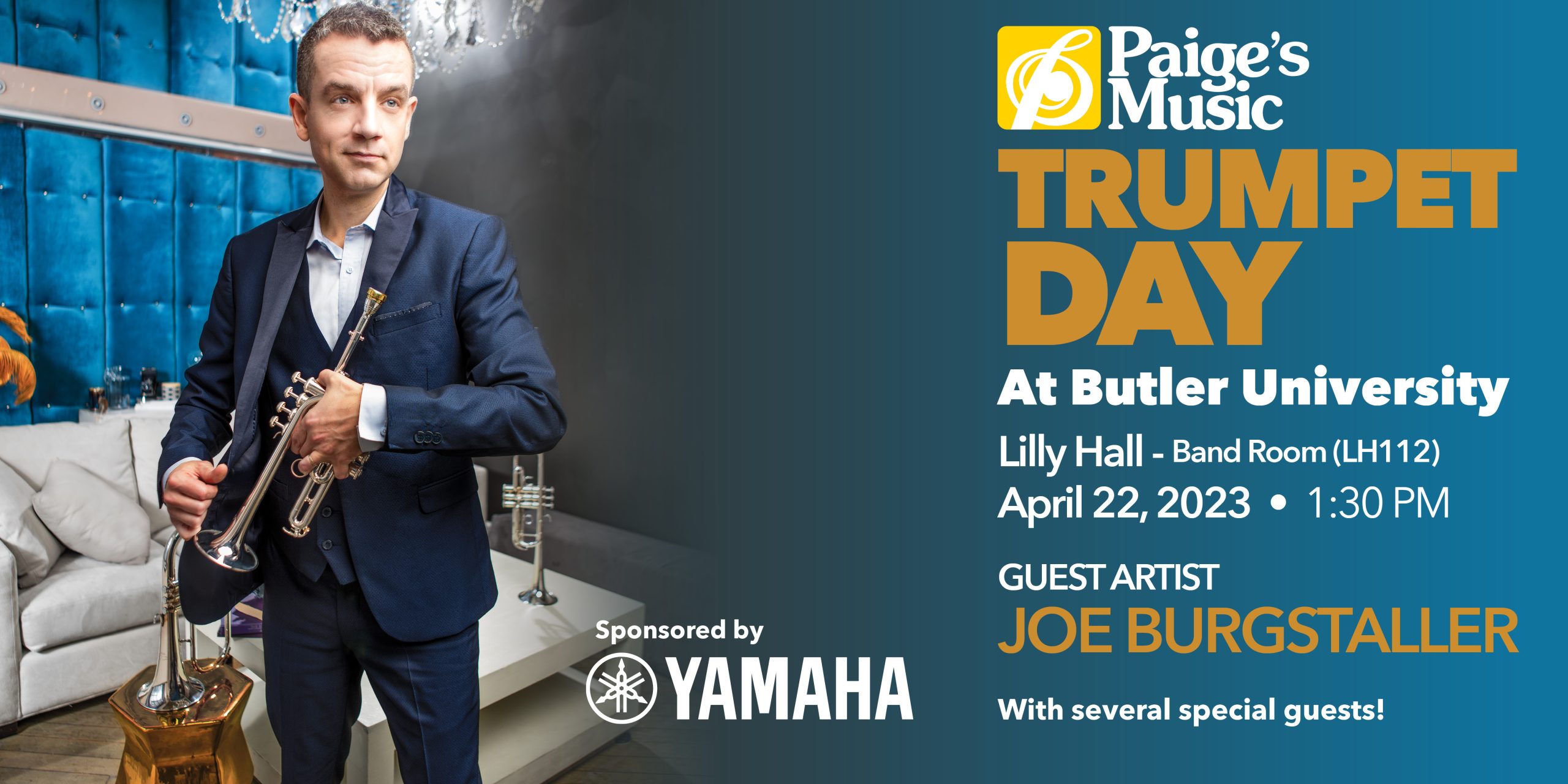 On April 22, 2023, we will be hosting our FIRST annual Paige's Music Trumpet Day at Butler University. This year, we are partnering with Yamaha to host Joe Burgstaller as our guest artist! Joe was my teacher at Peabody Conservatory and is now the Professor of Trumpet at Arizona State University! He was a member/arranger with the Canadian Brass for many years and is extremely active as an international soloist/clinician. Joe will be presenting a masterclass and a world-class recital at our event!
We will also have a special Trumpet Repair presentation by our very own Kevin Gillins! Kevin spent many years at Landress Brass in New York City before coming to Paige's Music. The day will also include a Q&A session with Joe, Dr. Jason Bergman (IU), Conrad Jones (UIndy, ISO), Jay Ellsmore (ISU, Terre Haute Symphony), and Allen Miller (Butler, ISO). As always, you will have an opportunity to try out trumpets and mouthpieces throughout the day! We will even have private appointments available.
This event is being hosted in collaboration with trumpet studios from area universities including Indiana University Jacobs School of Music, Butler University School of Music, Indiana State University School of Music, and University of Indianapolis Department of Music.
Here is the schedule of events (All Events will be in Lilly Hall at Butler University):
12PM-1:30PM Instrument Testing 110LH (Private Appointments Available Here from 11AM-12:30PM)
1:30PM-2:30PM Repair Presentation by Kevin Gillins 112LH
2:30PM-3:30PM Joe Burgstaller Masterclass 112LH
3:30PM-4:15PM Artist and Professor Q and A 112LH
4:15PM-5PM Instrument Testing 110LH (No Private Appointments Available)
5PM Joe Burgstaller Recital 112LH
The event is free and open to the public! Please RSVP here if you would like to attend. We cannot wait to see you on April 22nd!