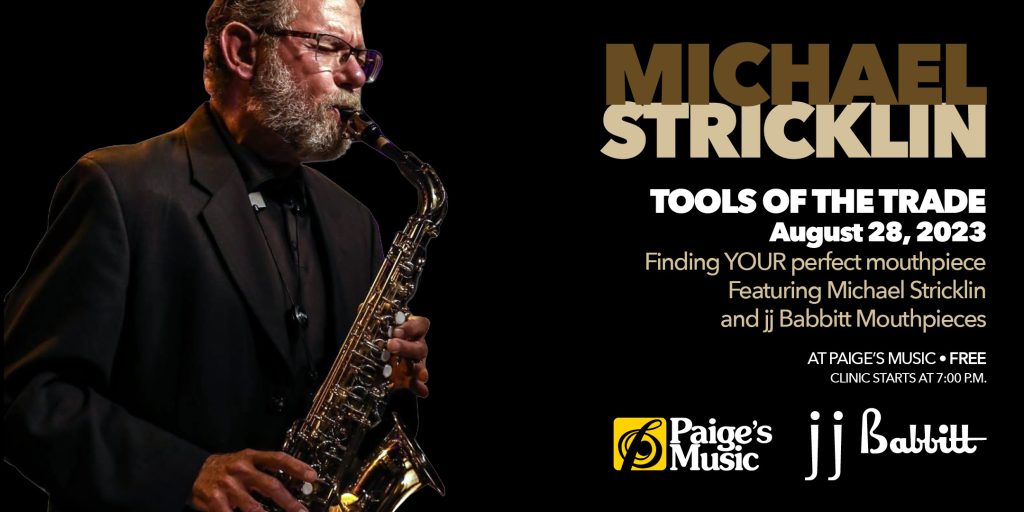 Are you someone who has been looking for a new Jazz mouthpiece but don't know where to start? Finding the perfect mouthpiece that is tailored to your unique playing style is a daunting task, which is why I am excited to announce that on August 28th at 7pm, we will be continuing our "Tools of The Trade" series with the great Michael Stricklin, presented by jj Babbitt!
The jj Babbitt Company is the oldest known manufacturer of mouthpieces for clarinets and saxophones in the industry. Founded in 1919 by Jesse James Babbitt, the business was family-owned throughout its first century. It continues as a family-owned business into its second century under Steve and Debbie Rorie and their family and remains committed to Elkhart, Indiana as Babbitt's base of operations.
Michael Stricklin attended North Texas State University, now the University of North Texas, from 1975-1978, in Denton,Tx where he grew up. He studied saxophone with James Riggs. After finishing college he toured with different musical groups playing R&B, Jazz and Pop music before setting up a home base  in Dallas,TX. There, Michael played with such artists as Red Garland, James Clay, Marshall Ivory, David "Fathead" Newman, Zu-Zu Bolin,The Sax Maniacs, and the Dallas Jazz Orchestra as well as playing recording sessions for many jazz, pop and r&b musicians. Michael moved to Indianapolis in the summer of 1989 where he formed the band "TimeOut", recording one cd entitled "Kindred Spirits". Michael has a self titled cd recorded in 1997 and has recorded with the Buselli-Wallarab Jazz Orchestra, of which he was a member for ten years. Since moving to Indiana he has recorded and played with artists ranging from "Bob & Tom" to Frank Sinatra. Michael has performed as a guest musician with several local symphonies including The Indianapolis Symphony Orchestra, The Fort Wayne Symphony and The Dayton Philharmonic. Michael has played lead alto for the Steve Allee Big Band for the last ten years. He is an Artist for Rheuben Allen Saxophones as well as Meyer and Otto Link Mouthpieces.
We cannot wait for you all to join us Join us on August 28th as we continue our "Tools of the Trade" Series with Michael Stricklin. Exclusive inventory, door prizes and more will be provided by our friends over at jj Babbitt. Hope to see you all here!