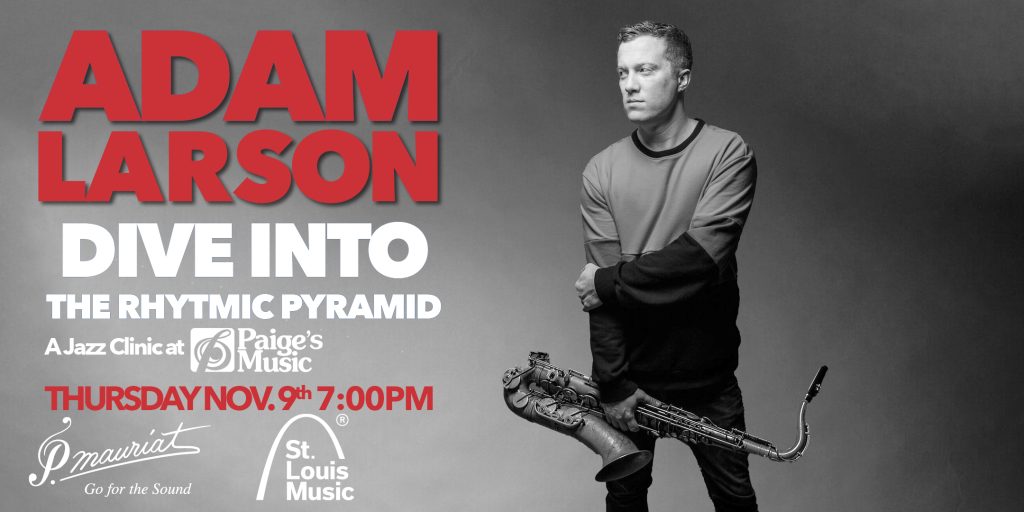 Adam Larson RETURNS to Paige's Music on November 9th! This is going to be a clinic you won't want to miss! I have been listening to Adam for a long time and he is one of the most technically proficient saxophonists I have ever heard.
Adam has been extremely busy since his July 2022 visit. In that time, he released "With Love, From Kansas", recorded "With Love, From New York", rounding out a stellar trilogy of albums paying homage to the places he has called his musical homes. Adam has also recorded an album as part of the Narrative Quintet, alongside Chris Madsen, Scott Hesse, Clark Sommers and John Kizilarmut. Check out those latest releases here:
https://www.adamlarsonjazz.com/store-1
On top of Adam's busy recording schedule, he has also been refining a masterclass that is specifically designed to help improvisers to develop more interesting rhythmic patterns in their solos. In his own words "through nearly 15 years of private teaching, The Rhythmic Pyramid is a systematic approach to developing rhythmic diversity and dexterity in your playing". In collaboration with BetterSax.com, Adam was able to break down his Rhythmic Pyramid approach for students to learn at their own pace as an online course. If you want to get a better idea of what the Rhythmic Pyramid looks like, you can check that out here:
We are so excited for Adam to come back and present this clinic that will benefit all improvisers looking to take their solos to the next level. We'd also love to throw a big shoutout to the folks over at P. Mauriat and St.Louis Music for making this all possible! If you're someone who is looking for a Saxophone with a vintage feel but modern playability, give these horns a shot! If you're literally wanting to sound more like Adam, we have plenty of P. Mauriat Saxophones to try out, including Adam's "System 76" Tenor.
You can reserve your Adam Larson Clinic Tickets here:
https://www.eventbrite.com/e/adam-larson-returns-improv-clinic-at-paiges-music-tickets-732937474717
Can't wait to see you all on November 9th!