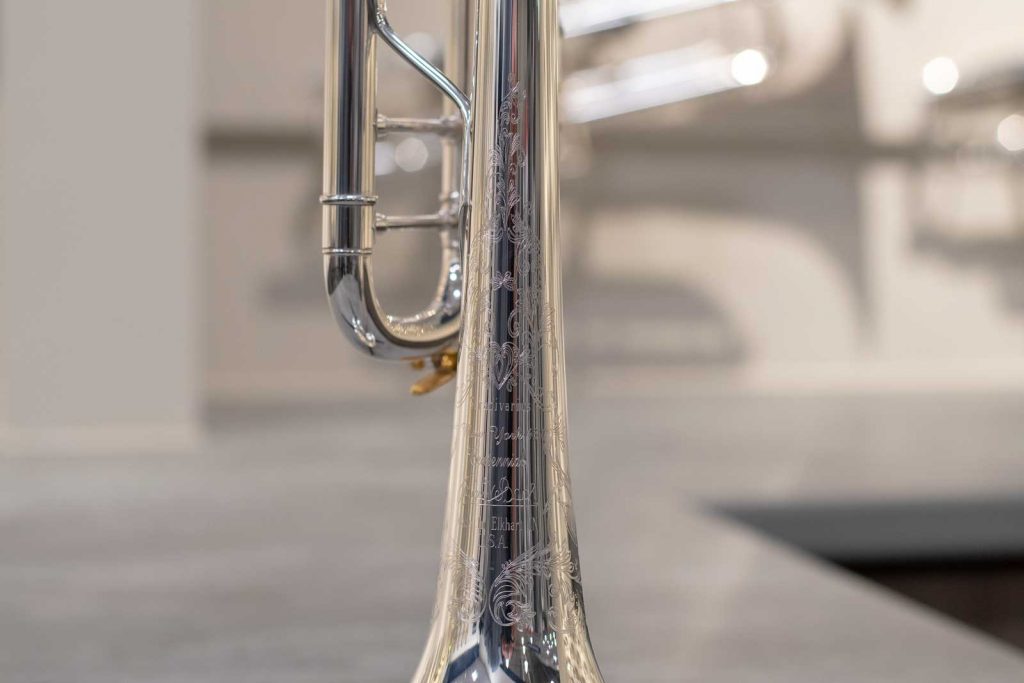 New to the Paige's Music inventory and directly from the Conn-Selmer factory in Elkhart, Indiana, is the Bach Stradivarius New York 190S43W2 Centennial B-flat Trumpet!
2018 represents 100 years since the legendary Vincent Bach began his instrument manufacturing legacy. From the early beginnings of mouthpiece manufacturing, to the great horns that have come out of Mt. Vernon, NY and Elkhart, IN locations, the Vincent Bach brand is one of the most highly regarded in the industry.  Available ONLY in the year 2018, the 190S43W2 commemorates this anniversary with a number of functional and aesthetic modifications to the standard 190S43 model.
Playing and Production Features:
Professional #43 bell with a side-seam resulting in a quick response and a brilliant tone
Combination of two-piece valve construction, nickel silver outer slides, brass valve guides, and a steel bell wire provides a broad sound with a quick response and great feedback to the player
A .459″ medium-large bore produces a well-rounded sound for all types of music
Round steel bell wire allows for great projection and sound quality
Commemorative Features:
24k gold trim on valves, 3rdvalve slide rod stop, and tuning slide water key
100thanniversary custom engraving on the bell
"100 years" commemorative stamp on 2ndvalve casing
Custom 100thanniversary wood-shell trumpet case with a burgundy interior and commemorative case badge
Having personally played this horn on several occasions, there is just a sense of ease and control that comes with it. Nothing feels forced, response is immediate, there is a noticeable difference in the vibration influenced by the side-seamed bell as opposed to the bottom-seam on standard models, and the tone is exactly as the description reads… BRILLIANT!
Anyone is welcome to come into the store at any time to try out this outstanding trumpet and consider owning a piece of Vincent Bach history.