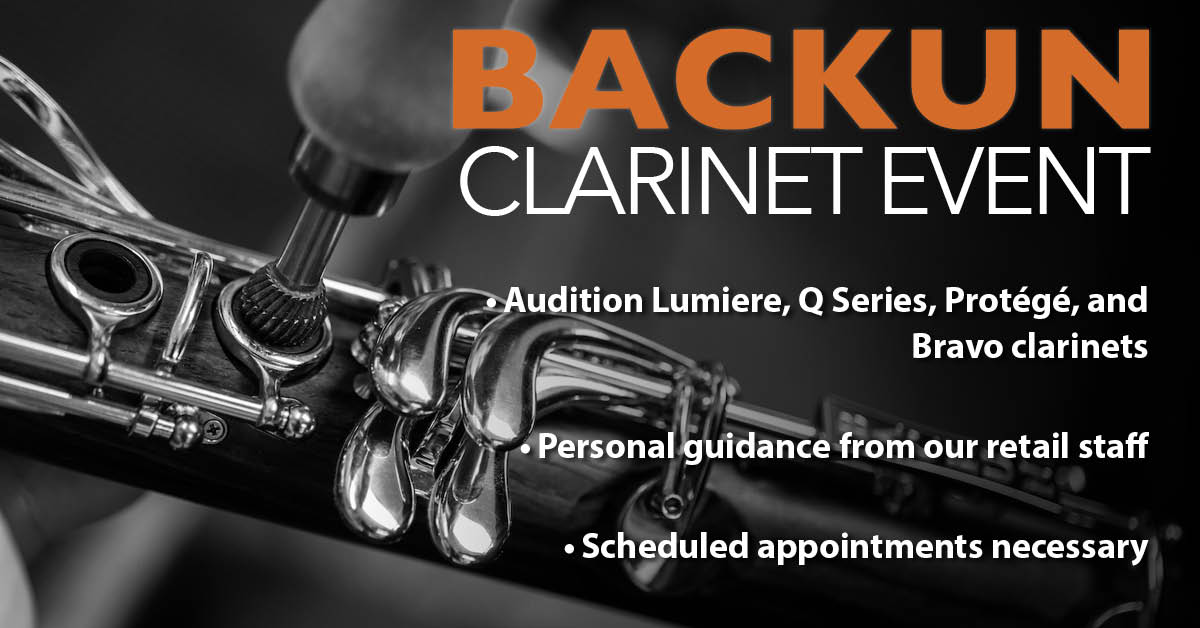 Backun is a clarinet brand after my own heart: a respect for tradition and the past, but fearless when it comes to experimenting with new designs and new materials. Based in Vancouver, BC, Backun offers a truly incredible line of custom, professional, and intermediate clarinets. In addition to complete instruments, Backun offers a wide array of mouthpieces, bells, and barrels that can complement the existing clarinet you play.
Paige's Music is proud to partner with Backun and launch their product in central Indiana. Through the month of December, you can audition their fine clarinets, mouthpieces, barrels, and bells.
Here is what you can request:
Lumière Bb Clarinet
*Custom
A magnificent achievement in clarinet-making.
The Lumière takes the clarinet to a level of breathtaking clarity and focus from the highest altissimo down through the low register. Less is more, as the Lumière flaunts European flair with uncompromising intonation and fluidity. Completely redesigned from the bell up, and the first clarinet to feature the new Backun Scale, this custom clarinet is a perfect match for those who desire the highest quality playing experience in a more traditional French-style instrument. Arching inline trill keys serve both form and function, moving the complex sculpted tone holes out of the waterline, while newly designed touch pieces offer a luxurious, refined feel. Among the finishing touches, custom leather pads make their first appearance on a Backun Clarinet, providing artists with unmatched response and feel.
---
Q Series Bb Clarinet
* Professional
Classic feel and playability
The Q Series clarinet offers those who prefer a more traditional French-style instrument the chance to experience the world of Backun. We combine modern manufacturing techniques and treatments, including a carbon fibre middle joint ring, with classic grenadilla wood and silver-plated key work to produce an instrument with truly familiar feel and playability.
Inline trill keys help reduce condensation accumulation, and precision under- and over-cut tone holes ensure impeccable intonation and response. An affordable masterpiece, the Q Series is the classic choice.
---
Protégé Bb Clarinet (Grenadilla and Cocobolo options)
*Semi-Professional
The Protégé is your foot in the door to college or the perfect teaching companion. Featuring unstained, naturally-aged grenadilla OR cocobolo wood, the barrel, body and bell are all crafted in Canada from the exact same wood used for our professional and custom clarinets.
The Protégé features a professional finish, undercut tone holes, a New Traditional Barrel and Backun Bell. Water resistant black Valentino pads, an adjustable thumb rest with neck strap ring, and a durable backpack case rounds out an impressive list of features at an even more impressive price.
---
Bravo Bb Clarinet
*Intermediate
Designed for the advancing student, the Bravo Bb clarinet opens new avenues of exploration for the player to improve upon technique and develop a unique sound. Carefully chosen appointments and features of the step-up instrument have been specifically tailored to fit this student who is ready to take his or her musicianship to the next level.
Features include an unstained Grenadilla upper and lower joint for gorgeous tone and natural appearance, while a Cocobolo barrel and bell offer a warm sound and elegant look. A fully adjustable thumb rest allows proper fit for any sized hand, and an internal voicing groove in the bell improves intonation in the low end. And it is the same skilled craftspeople who bring you other impeccably made Backun products who also construct Bravo clarinets using the best materials and quality keywork.
---
Barrels, Bells, and More
In addition to complete instruments, Backun also offers a wide variety of barrels and bells that will work with your existing clarinet! We will have a variety to try made of both granadilla and cocobolo wood. These can enhance the tone, appearance, and richness of your sound.
Schedule a Personal Consultation Appointment
I am delighted to offer personal consultation appointments to test the instruments and additional accessories. You can schedule your appointment here.