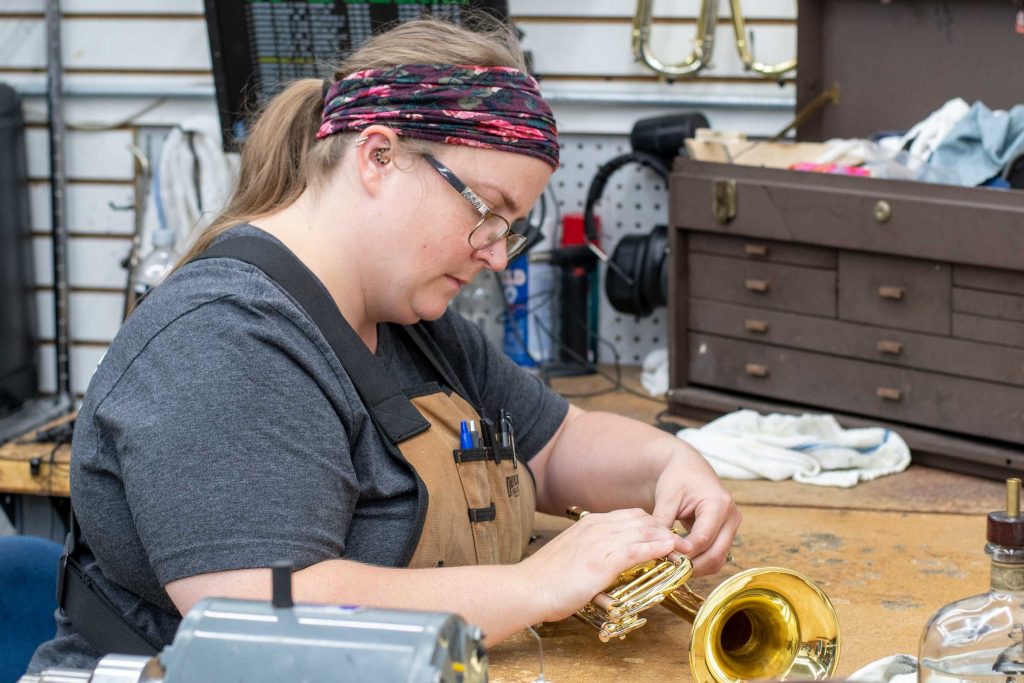 We're very excited to introduce you to the latest addition to our brass technician staff in our repair shop, Becky Nash. Learn more about her by reading our quick Q&A with her below!
Position: Brass Technician
Start Date: May 2019
Training or Education:
Bachelors in Music Education from Drake University in Des Moines, IA
Band Instrument Repair Diploma from Red Wing (Minnesota State College – Southeast)
Where are you from originally:
Pekin, IL
What instruments do you play:
Trumpet
What do you enjoy most about being a technician:
I love the variety of instruments and repairs I see. No two horns are the same, no damage is the same and it's my job to find the solution.
What is the most unusual repair you've had to deal with:
Finding fuzzy mold on trumpet pistons is always fun, but I think the most interesting thing I've witnessed is a trombone slide that not only had a pencil shoved all the way down to the crook, but also a battery. Needless to say, the slide had to come apart. Yikes.
What is your most memorable musical experience:
In college, a group of us decided to pile in a car (a car that couldn't go faster than 55mph without shaking) and drive the 6 hours to Chicago to watch the CSO play a Sunday matinee of the Rite of Spring. It was fantastic.