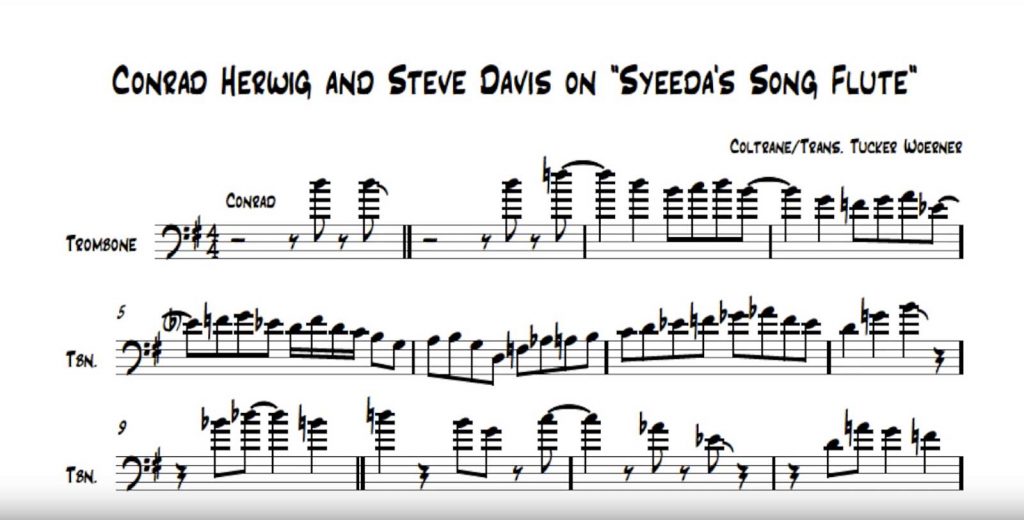 As jazz band auditions and rehearsals are starting for middle schools and high school students across the state I get a lot of questions about how to improvise on trombone. Becoming a successful improviser takes time, practice, and creativity. Here are some tips that will get you in the right direction to improve at improvising.
Listen
It should go without saying that the most important part to advancing your musical ability is to listen to the music you want to play. Developing style, phrasing, and vocabulary can be thought of similarly to learning a new language.  While some progress can be made by reading, the only true way to become fluent is to immerse yourself in the sounds and learn subtleties and nuances.
Transcribe
Try to write out what you hear. This will help you make sense of passages from a theoretical standpoint. By writing out what you hear you can train your eyes to look for patterns and melodic passages. This will help your sight reading, and it will also give you practice at writing clean parts.
Imitate
The goal is to get better and to allow your musical ideas to come out easier. Don't feel like you have to pick lengthy and difficult solos to transcribe in their entirety. Pick something that sounds great to your ears and inspires you to play. It's OK to copy small chunks and piece things together as you can. You don't have to learn every word in the dictionary before you're allowed to speak, and you don't have to learn every bebop lick before you're allowed to try to create.
Find Your Voice
Listen to who you love. The more you listen and imitate your favorite players the more you will start to hear their influence in your own playing. Buy some albums from your favorite musicians and try to copy the things that sound great.
Here are some transcriptions I've done.
Conrad Herwig and Steve Davis Trombone Solo Transcription "Syeeda's Song Flute"
Brent Wallarab Trombone Solo Transcription "Where or When"
Vincent Gardner on "Mercury Blvd"