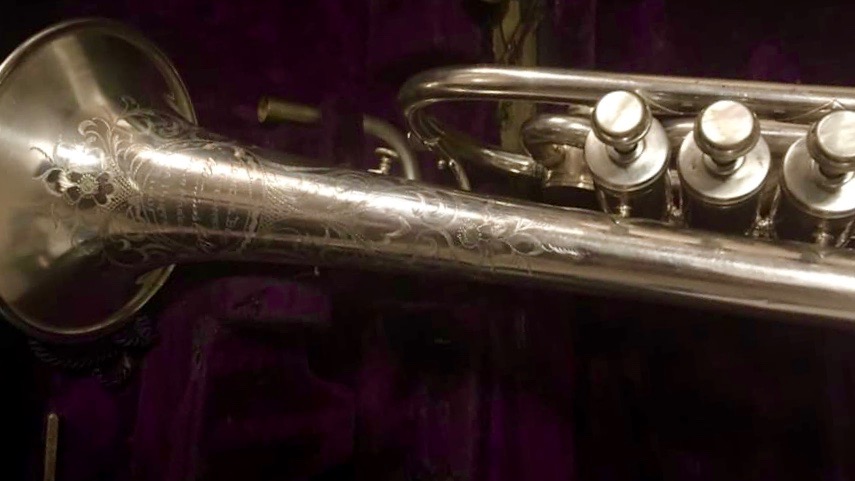 Every once in a while, we get in repairs that we just have to share.  For our latest installment, we recently had a cornet brought in that was literally found on a trash pile.  One of our highly skilled brass technicians, Sam Richards, performed his magic on this instrument and brought it back to its original beauty.  Here is the customer's review after receiving the instrument back…
Look at this beauty.  It is an E. A. Couturier, made in 1918.  It is a Bb and an A cornet.  It has a turn key on the right side when rotated changes it from the Bb to the A.  It was given to me about 4 years ago by a friend that retrieved it from the trash pile.  He said he didn't know if it was any good.  I could play it some but it needed work to play correctly.  Thank you to Mr Kevin Cottrell from the Seymour High School for suggesting sending it to Paige's Music.  They had it only a week and I got it back today.  They did an AWESOME job bringing this old cornet back to life.  I am extremely happy with the service and thrilled to have this beautiful antique sounding as it did 101 years ago.
Below are a couple of pictures of the finished product the customer posted on social media.  We're always up to a challenge here at Paige's Music Repair, and in many circumstances are able to bring an instrument back to top playing condition, regardless of how badly it may have been damaged.  So no matter how big or how small, you can always trust the pros at Paige's Music Repair to deliver high quality repairs at a competitive price!