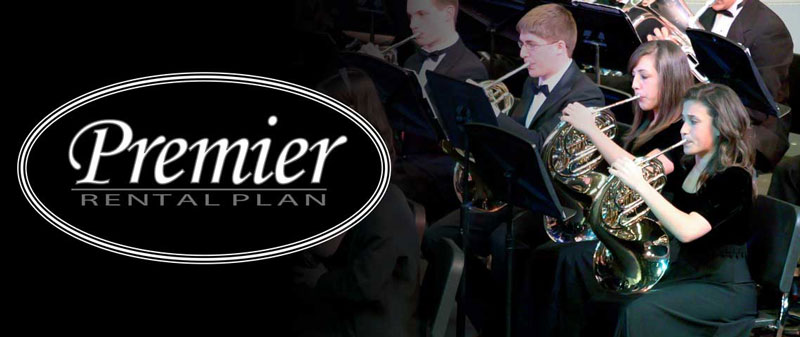 Our premier rental program is just that: an affordable and risk-free way to experience the finest instruments in the world. Whether you are looking for an instrument that is a step-up from what you have to worldwide renowned instruments played in the finest bands and orchestras. Paige's Music provides a wide assortment of options at great prices.
Why should I upgrade my instrument?
1. Better sound. Higher level instruments are designed to sound better. There is a great deal of research invested into making an instrument sound better. Our manufacturers design these high-level instruments to have the best sound possible and achieve this by using the best materials, the best craftsman, and input from some of the renowned musicians in the world.
2. Higher Quality. Our premier instruments feature the highest quality materials and the highest-level construction. These instruments feature beautiful, elegant finishes that are built to last. The higher quality not only makes the instrument more durable, but also improves the sound quality.
3. Advanced Features. Most intermediate professional instruments feature not only better sound and higher quality, but also more features. Have you been looking for an alto saxophone with a high F# key or a trombone with an F-attachment? Our premier instruments feature a plethora of features that most student-level instruments do not.
Already renting an instrument at Paige's Music?
Paige's Music can transfer up to 18 payments from one rental and apply them to a new rental! This means you can upgrade your instrument without losing the money you have paid towards your current rental instrument. This brings down your monthly cost and maintains the perks of the rental program our customers love! Just like our student level instruments, our premier instrument rentals include maintenance, cleaning, repair and even total replacement if necessary.
How do I rent a premier instrument?
1. Visit our store.
By visiting our store in Indianapolis, you can complete the exchange in a single visit. This is certainly a very efficient method, allowing you to carefully audition all of the models we offer side-by-side in our private practice rooms.
2. Attend the Premier Instrument Display Night at your school.
Speak with your director to make an appointment for this display. Paige's staff members will be on hand to help you through the process. Here we will have all of the items necessary to complete the exchange. This event is the most convenient option for upgrading your instrument.
3. Call our store.
If visiting the store or the display is not convenient for you, please call the store at 1.800.382.1099. Our retail staff will do their best to provide other options.
4. Email us.
If none of the other options are convenient for you, you can always email us at sales@paigesmusic.com. Our retail staff will do their best to provide other options.