With so much new content out there it can be difficult to sift through everything. Here are three new albums featuring trombonists that I can't stop listening to. Read what the artists have to say about the works and follow the links for more information on the performers. Be sure to pick up your copies of these albums with the information listed.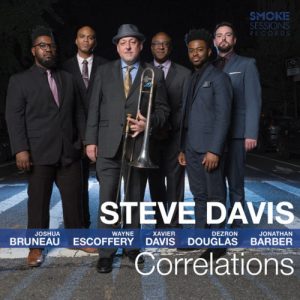 Steve Davis – Correlations
Steve Davis has been one of my all-time favorite trombonists since I first heard him. His style and sound are heavily influenced by JJ Johnson, and his harmonic sensibilities draw additionally from players like Jackie McLean and Freddie Hubbard. Davis never plays more or less than the music demands. A sensitive and thoughtful player, he consistently bring something fresh to each track while paying homage to the masters.
Here's what the artist has to say about the album.
Correlations, available now via Smoke Sessions Records, introduces the new band with a set of inspired new tunes and classic compositions from jazz masters who've pointed the way for Davis and his cohort to follow, galvanized by tradition but boldly pushing forward. That adventurousness is just one of the connections that binds these six artists together, one of many correlations that give the album and the sextet their name. Produced by Paul Stache and Damon Smith.
Purchase the album
Visit Steve Davis's Website
---
Peter Ellefson & Kim Kay – 3
Peter Ellefson and Kim Kay are back at it again. During my time at Indiana University I had the great privilege of listening to several recitals from Prof. Ellefson. His technique is second to none. His sound is paramount, and his phrasing is always captivating. Once again Ellefson has put out a top shelf recording that will be on repeat at my home.
Here's what the artist has to say about the album.
This is a classical trombone and piano recording. I have performed these pieces many times over the years and wanted to document them in a single place. The selections range from a work originally for tuba, Meza's "Retratos" to selections from Prokofiev's monumental ballet, "Romeo and Juliet." Greg Turner's "Vicissitudes" is an appealing new work in which I was fortunate to take part in the commission of and is a wonderful addition to the trombone repertoire. I believe this is the first recording of Derek Bourgeois' Sonata No. 2, a charming work filled with memorable melodies. Pierre Gabaye's "Special" provides the opportunity for some technical calisthenics, bookending a "Gershwin-esque" middle section. The recording ends with Leonard Bernstein's hauntingly profound "A Simple Song."
One aspect that may be interesting about this recording is that no mastering was applied to the raw mix. This is what I sound like, with no airbrushing or filtering the sound. It was my intention to make an honest sounding trombone recording.
Purchase the album
Visit Peter Ellefson's website
---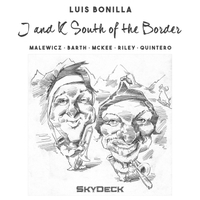 Luis Bonilla – J and K South of the Border
JJ Johnson and Kai Winding are widely regarded by trombonists as one of the best and most influential trombone duos ever recorded. Their arrangements and recordings have stood the test of time, and they have inspired countless musicians since their release.
Luis Bonilla has taken this inspiration and put some of his own personality into them by adapting them to reflect his heritage. Bonilla's counterpart is Chicago-based trombonist Luke Malewicz. These two are at the top of my list of players on the scene today, and the album features my favorite trombonist of all time. What could be better?
Here's what the artist has to say about the album.
As a young trombonist growing up in L.A., I was fortunate enough to see J.J. Johnson in person nearly a dozen times. J.J. In Person was also the name of the first Jazz record I'd ever heard. Needless to say, this was my tipping moment at wanting a life as a Jazz Trombonist, whatever that meant and still means. I just knew I wanted to play creative music for the rest of my life. As I ventured more into the music of J.J., I started coming across the fascinating recordings of J.J and Kai Winding. This eventually inspired me, along with my teacher Roy Main to form our jazz quintet. We called it Slide Area, a California thing, if you know what I mean.
Years later, the Jazz life steered me towards a faculty position at the prestigious Manhattan School of Music where I had the fortune of meeting an eager, talented and hard working Luke Malewicz. After Luke graduated and moved back to Chicago, we always managed to stay in touch and became close friends. It didn't take very long for ideas of playing together to come to fruition. We started with the Big Bad Bones Trombone ensemble then each got our big bands going and then the light turned on about celebrating the music of J & K with a twist. Our version of this music adds the gracious hands of Roberto Quintero on Latin percussion. Hence the title J & K: South Of The Border
A big thanks to the wonderful musicians, friends and family that make our lives a "Jazz life" and a project like this possible. And finally, I'd like to dedicate this record to the great Roy Main, his many students and all young trombonists looking to make their way of life, theirs!