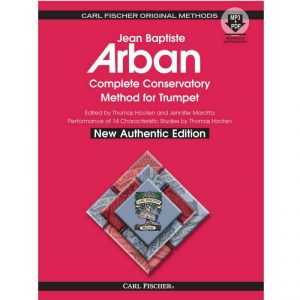 When I meet with a new student for the first time we always discuss what books they need to have for their lessons. Here are five method/etude books that are essential for good foundations to unlocking your full musical potential through the trumpet.
Complete Conservatory Method by Jean Baptist Arban
Widely considered by many to be "The Trumpet Bible", this is usually the first book suggested by private instructors if you are serious about studying trumpet due to the amount of material that is covered. Any technical aspect of trumpet playing that you will need to succeed will be in this book including nice songs, wicked characteristic studies, and classic cornet solos such as Fantasia Brilliante, Norma Variations, and Carnival of Venice.
Technical Studies by Herbert L. Clarke
Mr. Clarke presents exercises that combine several fields and can be utilized for many things. The infamous second study can be played in several tonalities, or you can begin working on playing softer while going higher. The final etude from the fifth study is very challenging as well.
Melodius Etudes by Marco Bordogni – Edited by Clark/O'Laughlin
These are musical studies through and through. They are not overly difficult, but still rewarding and allow the student to focus on phrasing, dynamics, and overall beauty of sound. The etudes feature several different time and key signatures, and will commonly be used in brass studios nation wide.
27 Groups of Exercises by Earl D. Irons
The Irons book will cover most of the flexibility exercises you will need for 97% of your playing. They can be used as good warm ups, or to focus on extending your technique and developing your lip trills for commercial work or performance on a baroque trumpet.
Articulation Studies by Chris Gekker
This book is fantastic for drastically improving your tonguing and articulation skills. The preface also discusses how in only 60 seconds each day, you too can build your sixteenth note single tonguing speed to 120 bpm. I and several of my students have used these studies to also work on double tonguing and keeping consistent airflow.
There are countless method and etude books out there for each of these particular categories, but the five listed can easily take care of almost any issue you could encounter as a musician and are ones I recommend my own students to purchase and study from. Are there any books that you feel should be in your bag? Please feel free to discuss in the comments below or send me an email at: Acarter@paigesmusic.com
Hope to hear from you!