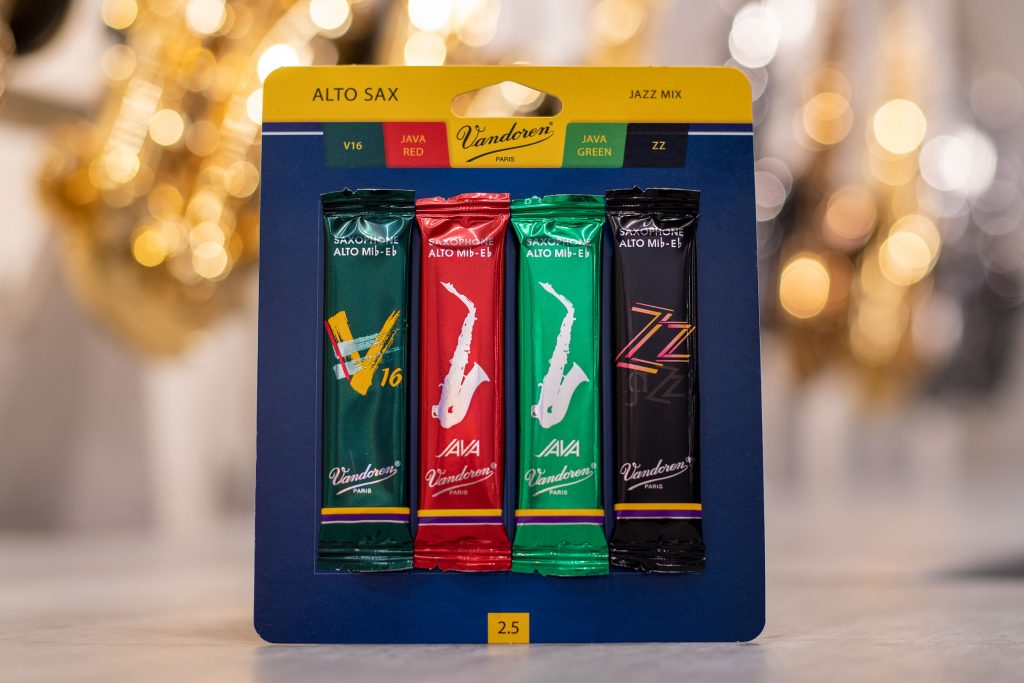 When it comes to reeds, there are a lot of options available to play and it can be overwhelming at times. Most beginners play on the Vandoren Traditional (blue box) but there is a wide variety of options available. You should try out different kinds of reeds to find what works best for you.
If this is your first time trying out different reeds I would highly recommend trying out the Vandoren Mix/Jazz Pack. These packs are an amazing resource, because it allows player to try a variety of different reeds without having to spend excess amounts of money on boxes of reeds. If you are wanting to begin experimentation with new reeds this is a great place to start!
Vandoren offers the Mix Pack for Clarinet and Saxophone it comes with 3-4 reeds depending on the strength that you get. The mix pack is a great option for players wanting to explore reeds that will help achieve a more concert focused sound.
The clarinet mix pack comes with a V12, 56 Rue Lepic, and two V21 reeds. The saxophone mix pack comes with a V12, traditional and two V21 reeds. The V12 is an amazing reed for getting a rich and deeper sound. They tend to run just a little bit harder than the vandoren traditional, but they will last longer. The 56 rue Lepic (clarinet only) offers a sound that is rich, centered and stable. This allows for great flexibility when playing. The V21 is a blend of the V12 and the 56 rue Lepic. This allows players to have a warm sound with a centered tone while maintaining flexibility.
The Vandoren Jazz mix is offered only for saxophone. These reeds assist with the jazz sound. In the pack there are four reeds the V16, Java Red, Java Green and ZZ. The V16 offers a deep and colorful sound without any resistance. The Java Green and Java Red are similar reeds that are versatile with their usage. They can be used for jazz, pop and rock. The only difference between these two reeds is that the Java Green is unfiled and the Java red is filed. Finally we have the ZZ. The ZZ offers a free blowing set up allowing the player to play freely without having to overwork their chops.