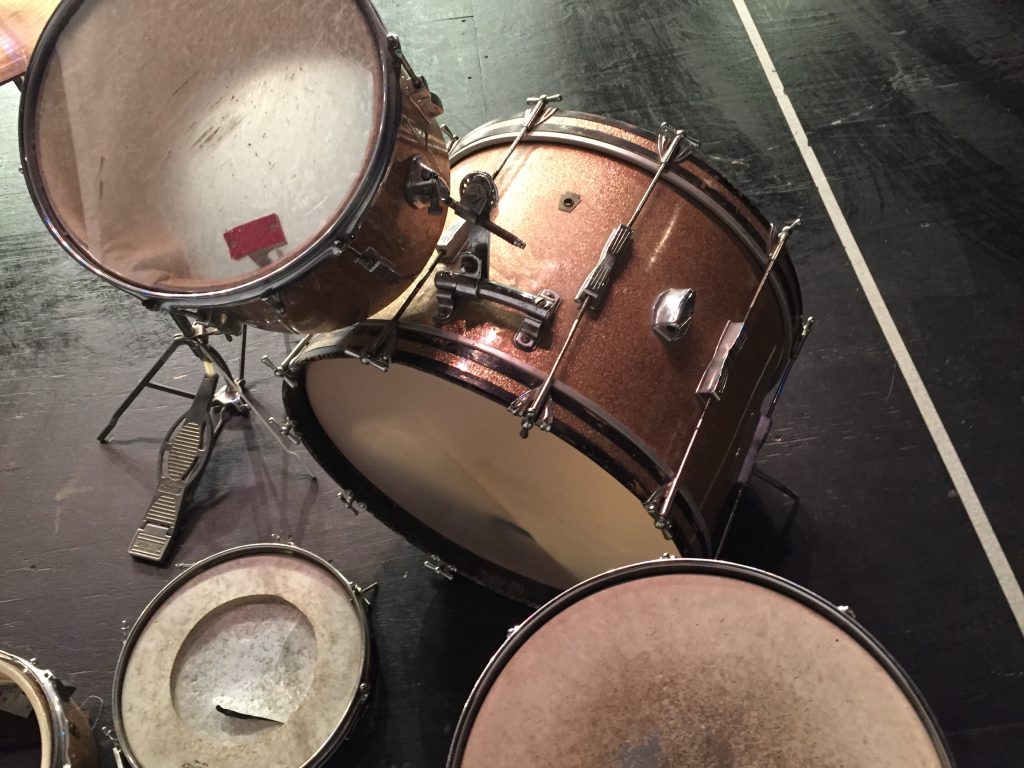 Brian Travelsted in our repair shop recently restored a Ludwig drum set.  Below he tells the steps he had to go through to bring this great instrument back to life.
Every once in a while we will get a call from a customer that is somewhat out of the ordinary.  I recently visited a local summer camp that had a few drum sets that were in need of some work.  When I arrived to inspect the drums I was able to piece back together two drum sets that needed new heads and cleaned.  I was not expecting to find a vintage set of drums. The 1967 Ludwig Club Date that I found had all the original parts except for the cymbal arm and a hoop on the mounted tom.  While I knew it would be a challenge, I was determined to make these drums look and sound great again.  Below is a basic breakdown of the steps taken to get the drums back into excellent condition.

Step 1: The Shells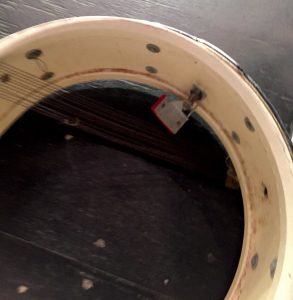 The process started by stripping down the hardware (lugs, tension rods, strainers, hoop) until the shells were empty and able to be cleaned. The interior of the shells were sanded and repainted white to bring back the classic look that these drums had when constructed so many years ago.  The bearing edges were lightly sanded to remove some rough areas but were overall in great condition.  The exterior champagne sparkle wrap was cleaned and polished to once again show the beauty on the drums.
Step 2: The Hardware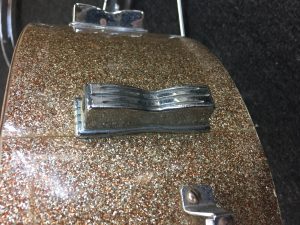 The most extensive cleaning took place on all the hardware as the chrome parts when Some of the parts were put in the ultrasonic tank and then buffed and then buffed to remove any surface rust or major areas of grime.  While not every scratch or bump was able to be removed, every part was hand polished to add a protective layer and "like-new" shine.  Once done, all parts were re-installed on the drums.  While a non-vintage cymbal arm had to be used it still has the classic look with a more modern casing used on the drum.
Step 3: New Heads and Tuning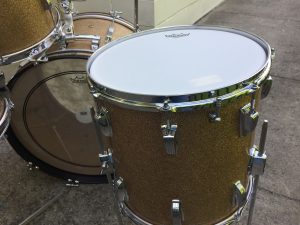 The other unique aspect of the drums were the sizes of 22" BD, 13" tom and 14" floor tom.  Most drum sets in this line had smaller sizes so this definitely stood out.  With some new Remo® Ambassador Coated batters and Remo®Ambassador Clear on the toms and snare drum.  A Remo® P3 Clear Batter Head and Remo® Fiberskyn Resonant Head on the bass drum allowed it to be deep and punchy all in one while not being over bearing and blending with the rest of the drums.
This project once again reminds you that just because an instrument is old or dirty, it still has a use and can be brought back to looking and sounding great.  A little bit of elbow grease, some patience, and the right tools can bring any vintage instrument back to excellent condition!